How Can We Get Wonderful Christmas Backdrops for Photography
Christmas is the perfect time to celebrate the love with your family, relative, and friends and taking photographs allow us to create memories that will last forever. But looking for a suitable place where the photoshoot took place is important. This can be difficult to do. So, here are 5 useful apps to make sure those photos turn out great.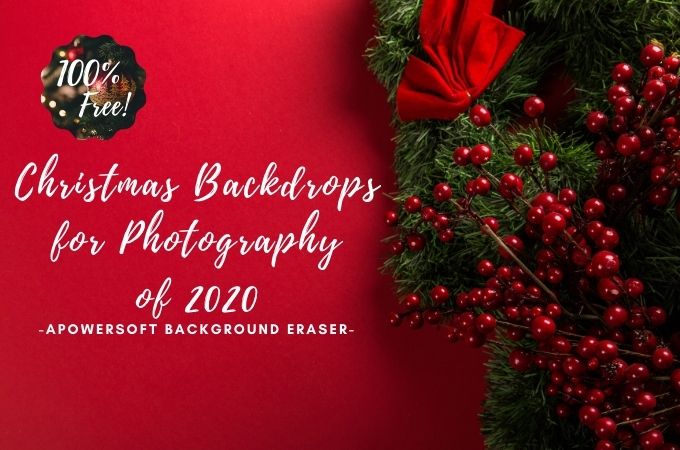 Apowersoft Background Eraser
Apowersoft Background Eraser is the first reliable app that you can have on both iOS and Android to make your Christmas photo more memorable. This app offers enormous collections of ready to use Christmas backdrop templates that you can apply to your photo. With its automated process in removing the background, you can quickly change it to a new Christmas background that you like or even upload your own backdrop designs.
Main Features:
Remove background with one tap.
Pre-set collections of Christmas backdrops for photography.
Accepts almost all the image formats.
Keep the original quality of the photo.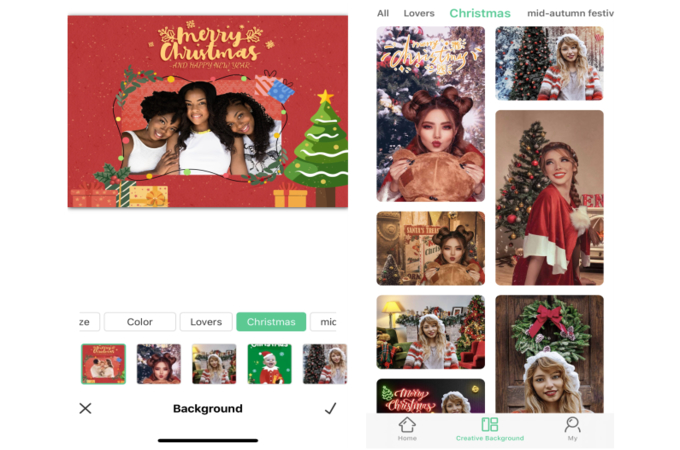 Pros:
Consists an AI technology for precise cut-out of the subject.
Change background with just a tap.
Allow users to upload their own Christmas background.
Provides basic photo editing features.
Cons:
PS: If you want to get a free membership, you may visit its official site and click the "Free VIP Account".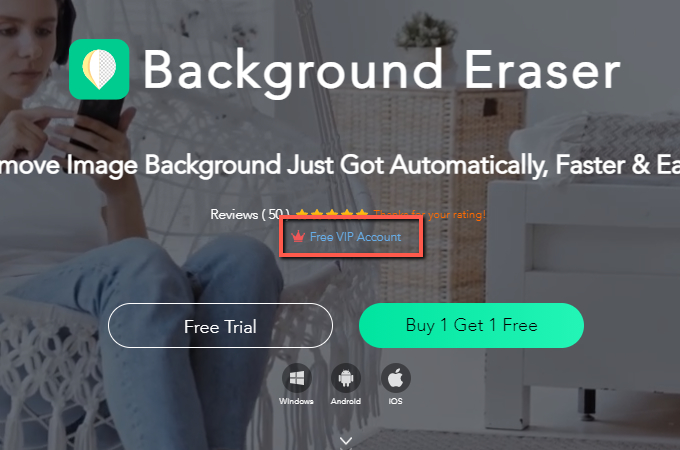 Christmas Background Changer
With its ability to edit photo backgrounds, you can have your Christmas background for photography more exciting. Christmas Background Changer is one of the best Christmas background changer app that you may install on your Android phone. You can rely on this app to get amazing background designs after you cut your subject and paste it on the Christmas backdrop that you have chosen.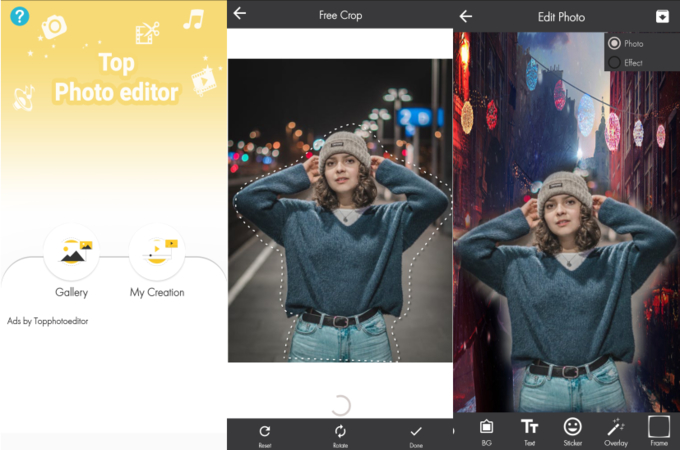 Pros:
It has dozens of ready to use Christmas stickers.
Provides cut-paste editor tools.
Consists of various Christmas background images.
Cons:
Sometimes, it doesn't give a precise cut-out.
It affects the quality of the photo after editing.
Christmas Photo Editor
Another efficient and simple Christmas backdrop for pictures app that you may use on your Android device is Christmas Photo Editor. This app will let you cut your subject with its cut paste photo editor tools. Then, you may set any beautiful Christmas background from your photo from the app's various collections of solid backgrounds and themes.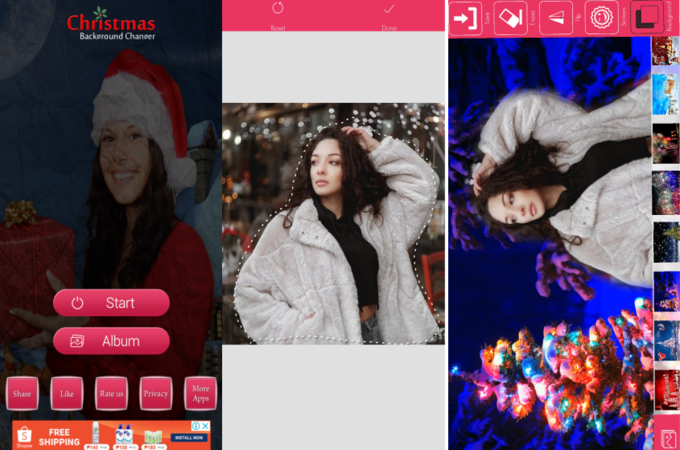 Pros:
More than 50 Christmas backdrops available.
It will let you change the size of your photo.
Adjust photo opacity.
Cons:
Photo saved in low quality.
Christmas Background
It is a simple app that can make your Christmas backdrops for photography really exciting and unique. Christmas Background is an iOS app that offers a simple interface to create a wonderful Christmas photo choosing from its pre-set backdrop designs. Moreover, this app will allow you to do some basic photo editing such as zoom in and out, add effects, overlays, and more.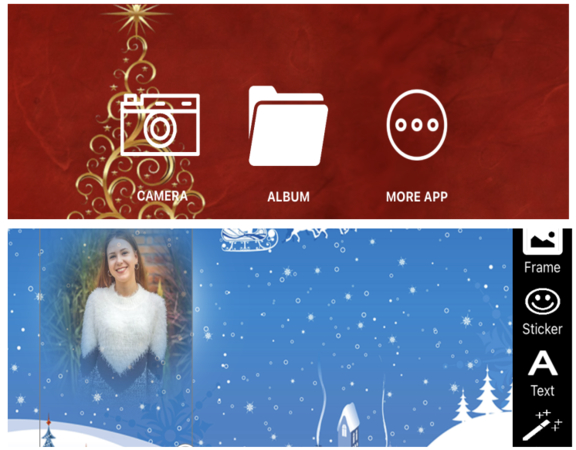 Pros:
Choose multiple creative backdrops.
Directly take photo or pick image from library.
Adjust photo effects; grey scale, hue, contrast, etc.
Cons:
Subscribe for better access of the app.
Background Editor
The last app that you can edit your Christmas background for photography is Background Editor. As the name implies this app was made to edit background. You can change your background instantly by uploading a backdrop from your library. You can freely choose what style of Christmas background you like.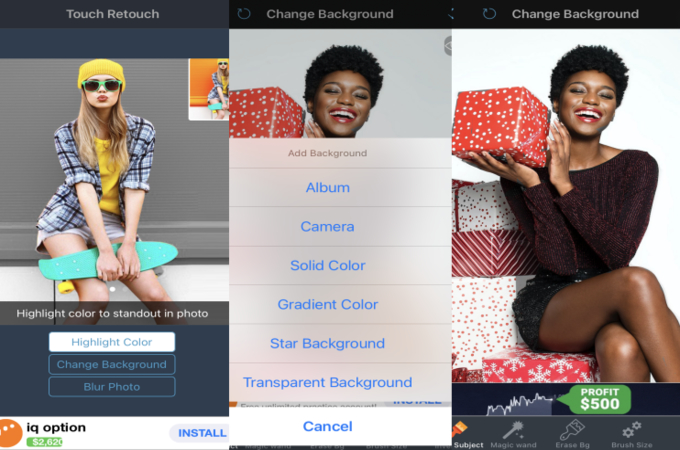 Pros:
Change and remove background from image.
Adjust smoothness, brightness, contrast, and more.
More than 70 filters for a perfect photo.
Cons:
No pre-set Christmas backdrop templates.
Conclusion
It is not difficult to find apps that will help you have a fabulous Christmas photo, you just need to see which among the apps will give you a perfect Christmas backdrop for pictures. Among the apps listed above, we highly recommend Apowersoft Background Eraser because of its user-friendly interface that can be used by beginners and professionals.