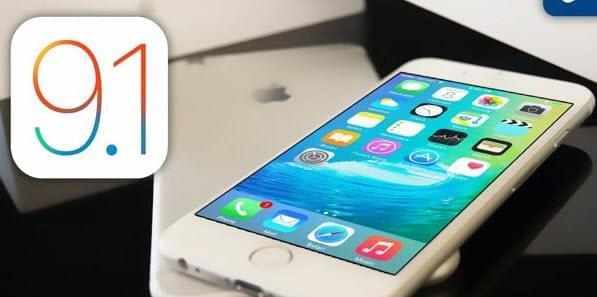 Apple lifted the veil on its iOS 9.1, which can be regarded as the first major update to the iOS 9 operating system released in September. This upgrade mainly optimizes the functions of Live Photo and adds a bunch of new emoji for you to play with. One thing to note here is that the users who have already jailbroken their device cannot upgrade to iOS 9.1 through phone's OTA. Once updated to iOS 9.1, you should also be aware that your iPhone cannot be jailbroken anymore.
iOS 9.1 major bug fixes
Fixed the bug that part of apps cannot be updated from App Store.
Fixed the bug that the content of apps could be zoomed.
Fixed the issue that some carriers failed to activate.
Fixed the bug that part of users may fail to start "Game Center".
Fixed the bug – the unread counts in the POP E-mail account were displaying incorrectly.
Fixed the issue that left a gray bar in the body of an Audio message.
Resolved the issue that Calendar became unresponsive in Moth view.
Resolved the issue that prevented users from removing recent contacts from new messages or mail.
Fixed the bug that some messages could be missed in Mail search results.
iOS 9.1 major updates
This release covers an update for Live Photos. No matter the iPhone is raised or lowered, the Live Photos will sense your movement intelligently. You do not need to worry about recording those unwanted movements.

iOS 9.1 newly adds over 150 emoticons with full support for Unicode 7.0 and 8.0. These emoji characters include options for sports, gestures, food items, smileys, weather and a lot more.

Increase the stability of the CarPlay, "Music", "Photos", Safari and "Search" functions.
Improved the performance of multiplex interface.
Fun facts about iOS 9.1
The Storage Capacity for Upgrade

Regarding the upgrade phone memory, there are some minor differences among Apple devices. But in general, the upgrade capacity will be between 200MB and 300MB. Users can upgrade to iOS 9.1 through OTA on the mobile or the iTunes on computer.

This latest release also adds full support for the upcoming release of Apple TV and iPad Pro.
iOS 9.1 adjusts the shift buttons on the keyboard, which makes it much clearer while inputting letters.
The new wallpaper are added such as Mars, Jupiter, Nepture, and a lot more.