Although OnePlus One was produced by a small company, it has impressed millions of people along with its release. The prevailing of OPO and its great sales volume rely on the cheap price, beautiful design and smooth performance. And as expected, OnePlus Two, which came out on July 27th, 2015, also turns out to be a huge hit. Now, in this year, OnePlus Three was announced in June. Whether you prefer to get the old OnePlus Two or the new OnePlus Three. One thing for sure is that you will need to transfer files from old mobile to the new one. To save your efforts, this article gives you some best ways to transfer files from PC to OnePlus Two or OnePlus Three.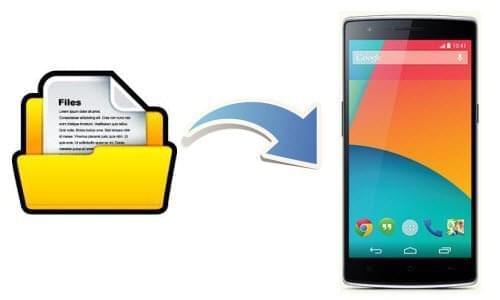 Top 3 Ways to Transfer Files from PC to OnePlus Two & OnePlus Three
Top One: Using AirMore
As a free wireless tool to transfer files between Android and PC, AirMore has received many favorable comments from users for its attractive interface and amazing features. It can access your Android or iPhone devices from both Windows and Mac computer through WiFi. Also, you can use it to transfer any files as you want, such as pictures, music, videos, contacts, APK files, and documents, from PC to phone or the other way around. An amazing feature is its ability to display Android screen on PC if your system is 5.0 and higher. To move files to OnePlus Two from computer with this app, you may read the following guide for reference, which also applies for OnePlus Three.
Type and visit "web.airmore.com" from your computer browser (For now, AirMore can be used in Chrome, Firefox and Safari browsers).
Open AirMore app on your phone and scan the two-dimension code displayed on web or simply select your device to connect in Radar. Please connect your phone and PC to the same WiFi network.
As soon as your OnePlus Phone is successfully connected, click "Files" tab and you can transfer any files into your phone by clicking "Import" icon or just drag files into the corresponding folders.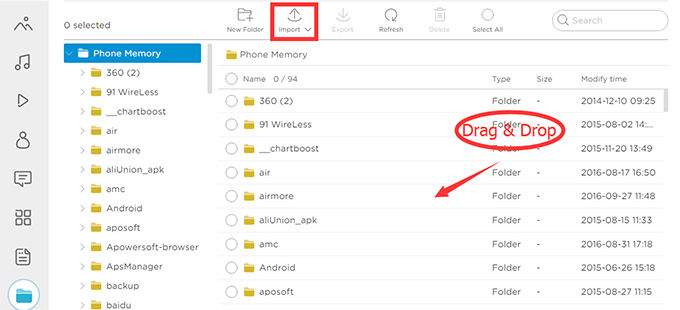 Pros:
User-friendly interface.
Fast connection to PC without USB.
Works on both Windows and Mac computers.
Occupies small phone storage.
Allows you to transfer files without size limits.
Cons:
Cannot be used when there is no internet connection.
Internet stability affects the transfer speed in a large scale.
Top Two: Using AirDroid
AirDroid is a popular app to manage Android devices on Windows, Mac and Web. You can easily copy data from computer to OnePlus Two or Three, once your phone is successfully connected to AirDroid web. Besides, it has some practical functions, including notification mirror, AirMirror (beta), and Booster. It is truly a nice tool to control Android phones and tablets from PC, except that it has a messy interface. You need to pay very close attention in order to locate the icon you are looking for, which is an eye-consuming task. Now let's see how to use it.
Download it on your phone.
Connect your device to AirDroid web by scanning QR code or logging in the same account on both your phone and web.
Click "Files" button. Find a proper folder and choose "Upload". Then you can select either files or folders to transfer.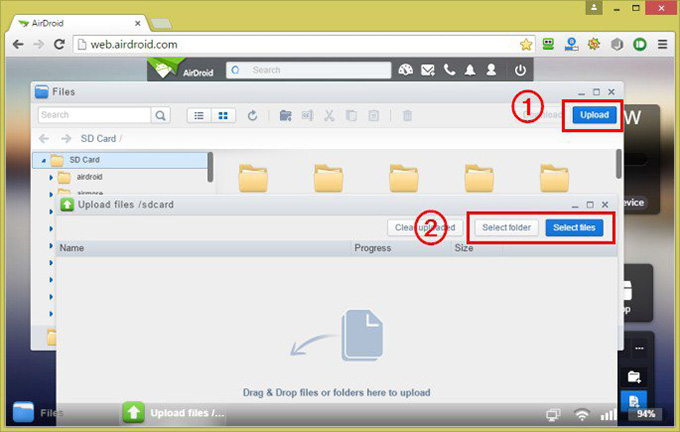 Pros:
Supports transferring files remotely.
Drag & drop function is available.
Two ways to connect.
Cons:
Strict size limits for transferring big files.
Transfer speed is dependent on internet condition.
Not compatible with iOS devices.
Too many icons on the web interface, making it difficult to find the right one.
Top Three: Using Mobizen
Another Android file transfer program is Mobizen. This app can also transfer files between Android and PC in an easy way. But the biggest advantage is that it can display your phone screen in real time and record it, which is very nice experience when you are playing games on your phone. Its web interface is clean, but not well-organized enough. And you have to register first to use it, which is sometimes annoying. Here is how to transfer files from PC to OnePlus Two/OnePlus Three with the help of this app.
Download and install it on your device.
Open this app and register by entering your email address and password.
Go to its product page on PC and enter the same account. Click "Connect".
Click "Files" and then "Upload". Drag files into the window to transfer is also available.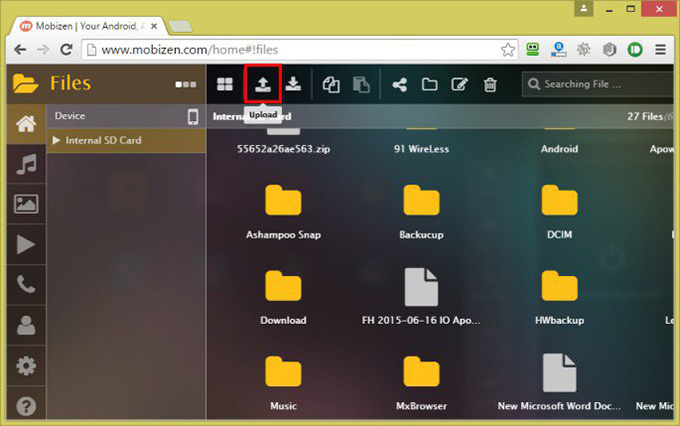 Pros:
Compatible with versatile connection methods, including USB, Wi-Fi and 3G/LTE connections.
Displays and records real-time phone screen.
Totally free.
Cons:
An account is a must to use it.
Every time the device is disconnected, you need to re-enter your account information.
Cannot manage files like documents, apps, SMS and so on.
All these three apps can help you to move files from PC to OnePlus Two and OnePlus Three quite conveniently. They are applicable for OnePlus One or other Android phones, as well. Each method has its own advantages and disadvantages. However, AirMore is suitable for most people because of its easy connection, fast transfer, and stable performance. You may have a try by yourself.