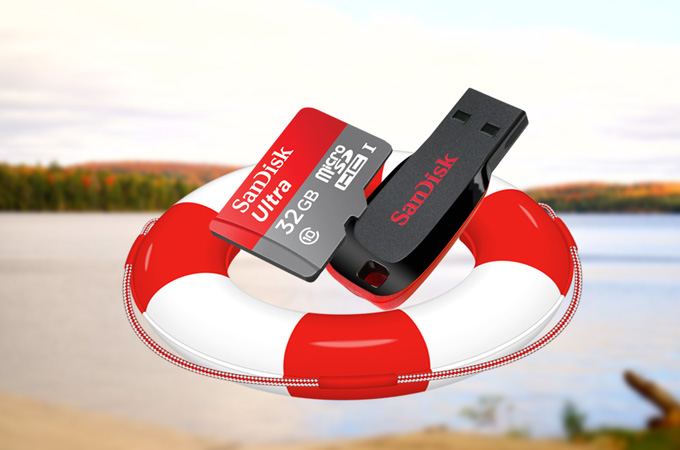 Technology makes our life much easier. Now we don't need to take piles of files everywhere we go, or prepare films for our old cameras, as all the data can be saved as electronic signals in our portable memory cards and USB drives. SanDisk is one of the manufacturers that provides such flash memory storage services. It produces and sells numerous kinds of USB drives and memory cards every year. I also use its memory card and drives. So here, I will offer some solutions for SanDisk Data Recovery, so SanDisk customers won't experience the same frustrating situation of losing precious data or formatting the memory products that I had previously.
SanDisk Data Recovery Solutions for Different Devices
Recover SanDisk Drives with ApowerRecover
We often use the USB drives to store documents, images, videos and many more, so that we can transfer the data from one computer to the other. However, when we connect our drives to the computers affected by a virus, the USB drive may also be attacked. Even though we can take some anti-virus measures to remove the viruses, our files might have have already been erased. To get back your lost data, you can consider a data recovery program – ApowerRecover. It can retrieve deleted files for from your computer, external hard disk, digital camera and other devices. Whether you lose your data due to formatting, virus infection or accidental deletion, the software can give help.
To recover SanDisk USB drive, follow the detailed guide below:
Step 1: Install the program and connect your USB drive to the computer.
Download
Step 2: Run the software and choose what you want to scan. You can choose more than one type of files. After selection, click on "Next".
Step 3: Check your drive under "Connected Disks" and then "Next".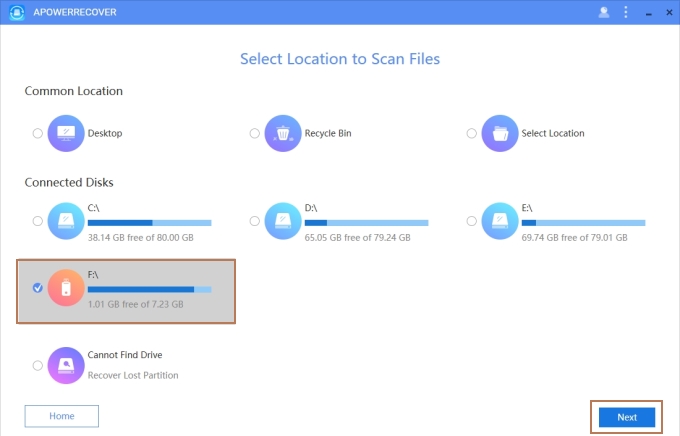 Step 4: Waiting for the completion of the scanning procedure, select the items to recover.
This app has a clear instruction that you can easily understand regarding how it works. And it is compatible with your Windows and Mac systems, so no matter what computer you are working on, you can use it for your SanDisk drive recovery quickly.
And if you want to select and restore all the data, you can click the box on the left side.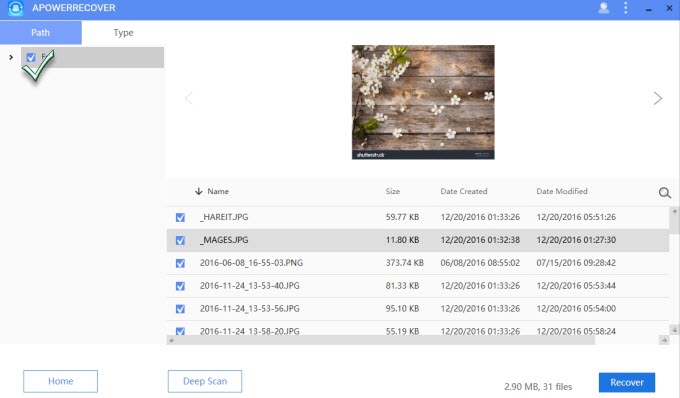 Recover SanDisk SD Card with Jihosoft File Recovery
SanDisk SD cards are often inserted in mobiles, digital cameras and camcorders to save data and extend storage. According to users' feedback, files can also be lost accidentally on SD card. When you cannot find your data on your card, you can try Jihosoft File Recovery for SanDisk SD Card Recovery. This software can run on Windows as well as Mac computer. It can restore various types of files including music, photos, videos, documents, archives, etc. Now let's use it to retrieve the data from your SD card.
Step 1: Run the program on your computer and insert your SD card to the computer.
Step 2: Choose "Recover File", click on your card below "Removable Disk". If you remember what type of files you delete and don't want to spend time waiting for it searching other irrelevant file types, you can go to "Advance Scan" and check the types.
Step 3: Click on "Scan Now". When it finishes scanning, you can preview and select the files to recover.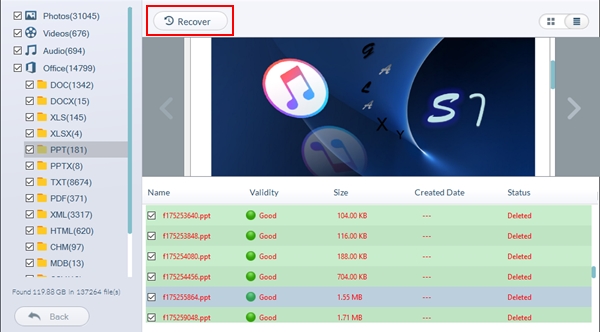 Summary
Actually, both apps can perform excellently for SanDisk drive recovery and SD card recovery. You can choose either to help you retrieve your lost data on SanDisk products. If you want to find a specific type of file, such as jpg files, and don't want to find any other files, you can consider Jihosoft File Recovery as it can choose the file type before scanning. However, we also recommend ApowerRecover, for sometimes you don't know whether you lose jpg or jpeg files and the pictures you lost may be some other file types. Moreover, ApowerRecover offers its users a "Deep Scan" mode after standard scan mode which ensures that you can find your deleted files.