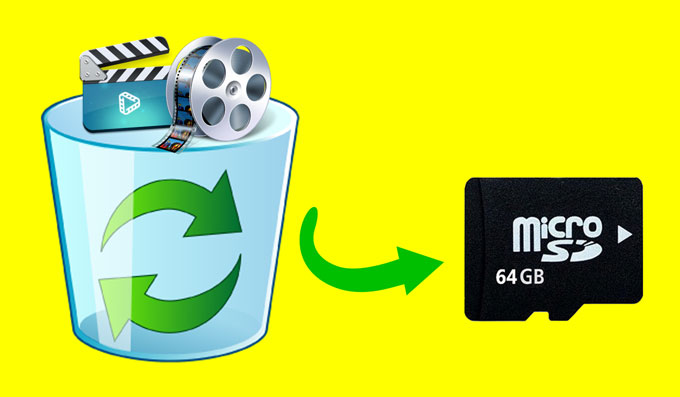 There may be occasions where you accidentally delete your favorite videos or those you don't want to lose from your SD card, such as the one you took on your last birthday party, or the video you took while having fun with your friends on the beach, in addition to some other videos that bear beautiful memories captured with a DV, a camera or phone camera, and stored in SD card. All of them may be removed unintentionally while they mean a lot to you, and some cannot be taken again. In such case, you might long for getting them back and therefore you might wish to recover deleted video from SD card. How can you do that? Herein, we introduce 3 easy ways that can help you achieve this.
How to recover deleted videos from SD card
Before you start the video recovery, you need to take advantage of an SD card Reader to read your SD card on your computer, and then it will be shown on your computer and be accessed by the recovery program successfully. Proceed to learn how you are able to use these tools to restore deleted videos from SD card.
Recuva
Recuva is a user-friendly software that can be utilized to restore files that have been accidentally deleted from your computer. It allows you to recover files emptied from the Recycle bin, as well as music and videos and other files that have been deleted from USB flash drives, memory cards, or MP3 players. Similarly to other file recovery programs, Recuva runs by searching for unreferenced data, but if the operating system has written new data over a deleted file then it will often not be possible to get it back. Move on to see the steps about how to recover deleted videos from SD card by using Recuva.
Download the program onto your PC, and launch it after it is successfully installed.
Hit on "Next" to select the file type you want to recover, and click on "Video" and then on "Next".
Select a file location, go to browse in a specific location on SD card, and click on "Next".
Select "Enable Deep Scan" if you want to get as many videos as possible, and hit on "Start" to start the recovery.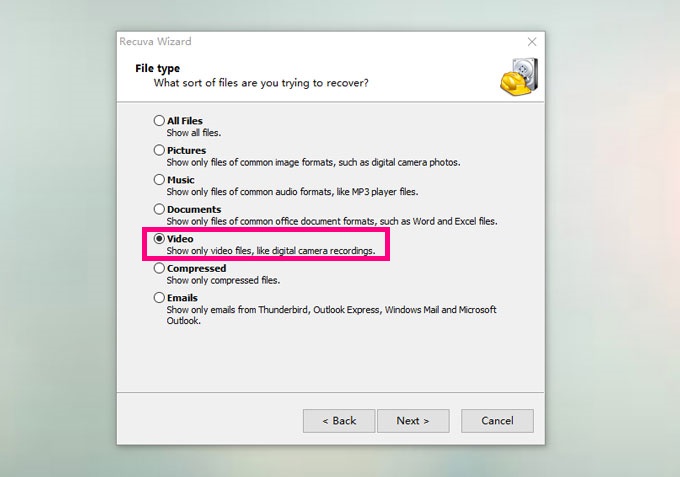 Then this program will scan your files immediately. The duration time will be noted, and you just need to wait until the scan is finished.
ApowerRecover
Unlike Recuva, ApowerRecover has a prettier interface. It is a program that can help you get back your files, including those you lost by accidental deletion, formatting, or virus infection. It allows recovering deleted files on Windows PC in a secure way, whether they were stored on the computer, a hard drive, an external hard disk, a memory card, or digital cameras, and so on. Various types of data can be retrieved by ApowerRecover, encompassing photos, audios, videos, documents, archives, emails, and so on. When it comes to retrieving videos from SD card, ApowerRecover will be a great choice. Follow the steps below to restore deleted videos from SD card.
Download ApowerRecover onto your computer, and launch it to enter the main interface.
Select "Videos" from "Media Files" type, and click on "Next" to continue.
Select location to scan files. Your SD card will be read as a new disk on your computer, just choose the new disk in the list of Connected Disks.
Hit on "Next" to start to scan. If you can't find videos you want from the first scan, you can click on "Deep Scan" to retrieve more files. Once you've found the video you want, you can hit "Stop" and then press "OK" to stop the scan.
Choose the video file you want to get back and hit on "Recover", select a location to save your video file. Click "OK", then your SD card video recovery will be completed.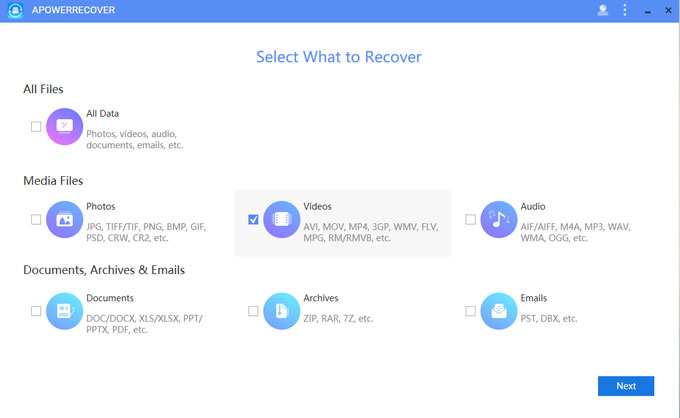 When the detection is over, the details of the deleted items can be seen, which contributes to saving time and storage space. Also, it's safe to make use of this software as your data can be easily recovered without any loss.
EaseUS Data Recovery Wizard
EaseUS Data Recovery Wizard enjoys a fairly high reputation among the recovery programs. It enables users to recover files which were lost because of severe corruption due to unexpected power-off, software crash, turning off of storage media during the writing process, improperly pulling out of the SD card and so on. If you lose your videos because of the reasons mentioned above, EaseUS Data Recovery can work it out for you. Let's see the three steps by using this software to recover deleted video from SD card.
Step 1: Launch. Download the software onto your PC, and launch it after a successful installation.
Step 2: Scan. Select a location to start finding data, hit "Browse" to specify the location to SD card, and click on "Scan" to start scanning. Choose "Video" on the top of the interface, and you can see quick scan results and deep scan results. Also, deep scan will take some time.
Step 3: Recover. Select the video file you want to restore, and click on "Recover", and select a folder to save it. Then your video file can be restored.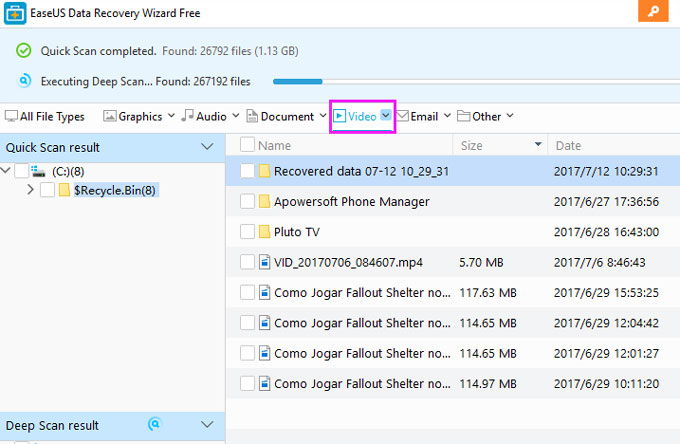 Note: Don't save the recovered data to the drive where you lost your data.
Accidentally deleting videos from SD card is not worrying because you still have methods to get them back. The above mentioned three software have almost the same functions to recover deleted video from SD card, but each has its own features. You can make a choice for your own good. Just bear it in mind that no matter how you have lost your precious data stored in SD card, you can find and retrieve it with the help of ApowerRecover.