Given all these reasons why you need to mirror your iPhone or iPad to TV, here we take iPhone as an example and give you a detailed guide to help you connect iPhone to Roku and do Roku screen mirroring.
Detailed Guide on How to Mirror iPhone/iPad to Roku
ApowerMirror
As mentioned, there are only a few apps to mirror that is compatible with Apple devices. One of which is ApowerMirror. It is an alternative way that you can consider using to mirror your iPhone to Roku. It is a third-party app compatible with all device platform. It perfectly works with mobile phones, computers and most especially Android TVs. To cut the chase here is a way to stream iPhone to Roku using ApowerMirror.
Get the app installed on your iPhone and your PC by clicking the download button below.
Connect your PC and your iPhone under the same Wi-fi server. Also, prepare an HDMI cable for later use.
Now, mirror your phone to your laptop by clicking the blue "M" button on your iPhone. Tap the name of your PC and tap "Phone Screen mirroring".
Next, swipe up to reveal your "Control Panel" and tap "Screen mirroring" and tap the name of your PC. The phone is then mirrored.
This time get the HDMI cable and connect your PC to your TV
Set the TV source to HDMI. The mirroring on your TV will then begin.
LetsView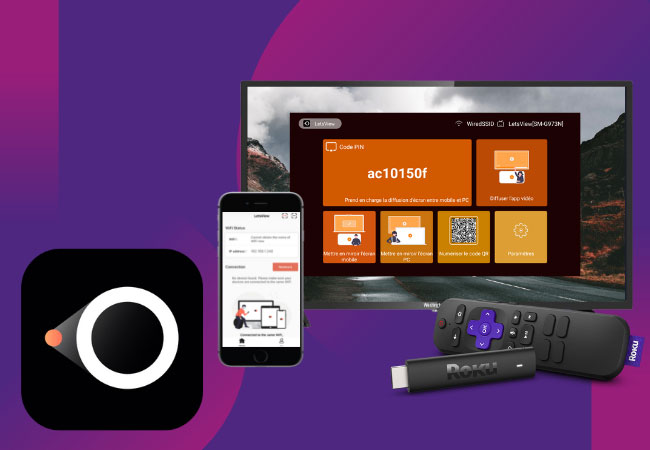 The next tool allows you to mirror iPhone to Roku is LetsView. This tool is a mirroring app for phones, computers, and TVs.But since Roku is third-party hardware, it is difficult to find apps compatible with it. On the second list, we have LetsView. LetsView is a Miracast ready app that works with Miracast ready tools like Roku. This way you won't have to download a mirroring app on your TV. Just download it on your phone and you can start connecting.
Download and install the app on your phone by clicking the download button below.
Get a HDMI Cable, connect you TV to your PC. 
Now coonect your PC to your phone by being under the same Wi-Fi network.
On your phone, wait until your PC name appears on the screen. 
Once you see the name of your PC, tap it and the mirroring will begin.
Since your PC is connected on your TV, it will also reflect on your TV. 
Then your iPhone screen will be streamed to TV.
Default
To begin with, go to "Network" and connect your Roku to the WiFi connection where the iPhone is connected.
After that, you need to set up your Roku Play device. Go to "Settings" and then choose "System". Click "System update" to check whether your device is the latest version. If not, update it.
Once done, go back to "System", choose "Screen mirroring" and enable its mirroring feature.
Right after setting up the Roku Play device, it is now time for you to mirror iPhone to Roku.
Go to App Store, download the Roku app and then launch it on your iOS device.
When you open the Roku app, and it will automatically detect and display the available devices.
Tap your TV name to connect and start Roku screen mirroring.

Disclaimer: Make sure to connect both devices under the same Wi-fi server.
Identified issues that you might encounter while mirroring
Since Roku is a newly-developed technical product in terms of screen mirroring on television, there are some issues that you may face and surely, some room for improvement.
The video may load a little slow, if happens just patiently wait for it.
You may also find some time lag between the visuals and the audio of the video while streaming.
At times mirroring function stops in between. In that case, check if your screen's display is on or off.
What's more, the mirroring sometimes does not start while you mirror iPad to Roku. Just turn it off and repeat the steps given above.