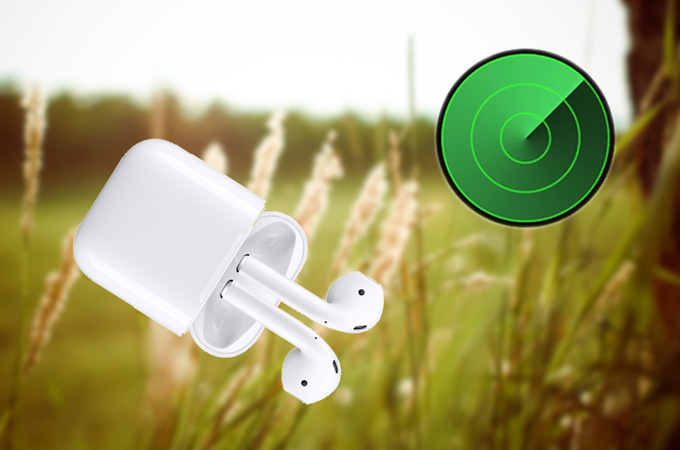 When iPhone 7 was released, it was a shock to everyone that it would not contain a headphone jack. Instead, Apple introduced AirPods, which are wireless headphones that would sync to the iPhone 7 via Bluetooth. However, the AirPods are rather easy to lose and they are very expensive to replace. So in this article I will give you a way on how to get back lost AirPods when you lose them.
What You Need to Find Lost AirPods?
To locate your AirPods earbuds, you need to update your iOS to the latest 10.3 which includes the new feature – Find My AirPods. Also, you need Apple's Find My iPhone app which can show you the last place your earbuds connected to your iPhone and help you look for them. With these, you can follow the below functions and start searching.
How to Find Them?
Step 1: Open up your iPhone and locate the Find my iPhone app. If you cannot find the app, you may go to notification page and search for it.
Step 2: Sign in the app with your Apple account. After that, there should be a list of all your Apple devices, slide down and select the AirPods you have lost.
Step 3: The app will then advise you of the exact location of the AirPods to help you find missing AirPods if they are in distance. You can go there. But if you are right on spot and still cannot see them, tap "Actions" and "Play Sound". The sound is so loud that you can hear it.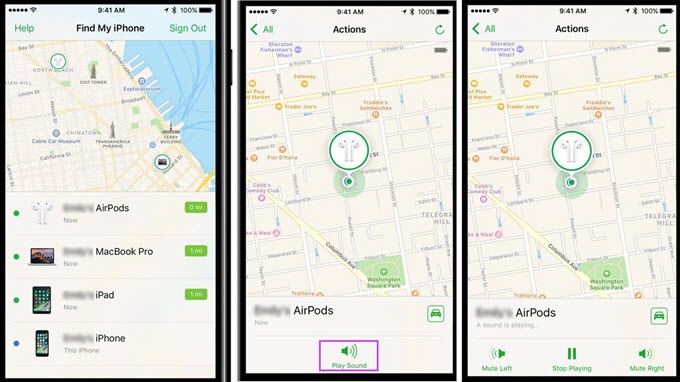 And in case you just lost one of them, you can tap "Mute Left" or "Mute Right" according to your need.
Another tip is that do not tap "Play Sound" when you are wearing earphones, because the sound is really loud.
Conclusion
This way works when your AirPods are connected to your iPhone, if not, you can only buy new ones. What's more, as AirPods are paired to your mobile via Bluetooth, one drawback of this is that you are unable to find missing AirPods unless they are in Bluetooth range. So, if they fall out of your pocket or you leave them somewhere far away, it might be impossible to get them back.
It is fortunate that this time iOS update benefits AirPods owners to search for AirPods. However, as we mentioned above, it has some limits. So you'd better take care of your AirPods. You can buy ear locking accessories to keep your earbuds on your ears.