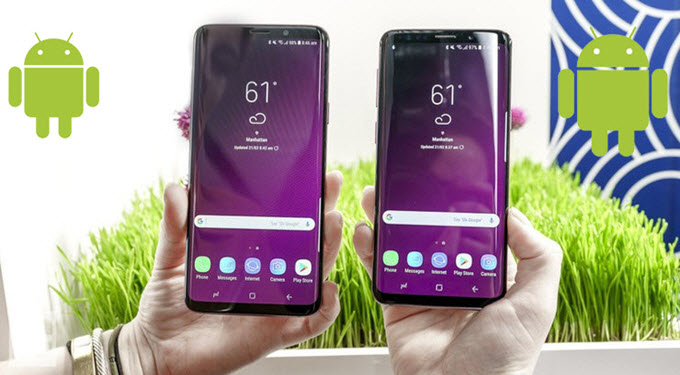 Wouldn't it be amazing to mirror your device from another and control Android from Android? Say, for example, your colleague needs help on using a certain application that you know. Or, you're a tech support who wants to configure the mobile device of a client to fix the problem at hand. In these instances, having access to Android is necessary, as it will allow you to provide a proper and hassle-free demonstration. Read to find out some reliable applications that you can download on your mobile phone.
Three Useful Applications Used to Control Android from Android
TeamViewer – Remotely Control Android from Android for Free
The first application you may use is TeamViewer. This is widely known for its ability to control the computer remotely. But aside from that, it has a mobile version that is equally useful as a desktop. The app's latest update allows you to mirror Android to Android. Moreover, it enables one to access the mirrored phone and use the keyboard from the receiver. Hence, you can view your friends' smartphone even when they are far away. Just remember that your phones should be connected to a working Wi-Fi network. Once you're done, follow the instructions below to know how to control Android from Android.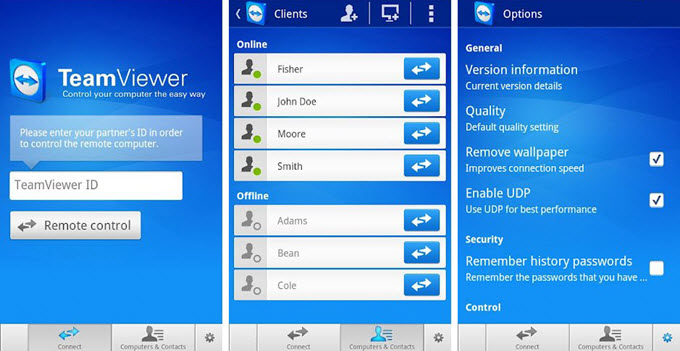 Download TeamViewer QuickSupport on the streaming device and install the free Add-On when prompted.
Consequently, download TeamViewer from the other device.
Upon opening QuickSupport, you will see an ID. Simply input it to the receiving phone and tap "Remote Control".
Click "Allow" to accept the remote control.
RemoDroid – Control Android from Android Remotely with Rooting Devices
RemoDroid is another application capable of controlling Android devices from an Android phone and Windows/Mac computer. It is originally designed for Android TV's, but the app works on a wide range of Android phones and tablets. Thus, this can be used if you need to share your phone screen remotely. However, it's still in the beta stage so there are bugs within the app that can affect its performance. In addition, RemoDroid is not compatible with all units and it requires rooting of your receiving device. Nevertheless, it works pretty well on managing your phone from another device. Check out the guide below to access Android from Android.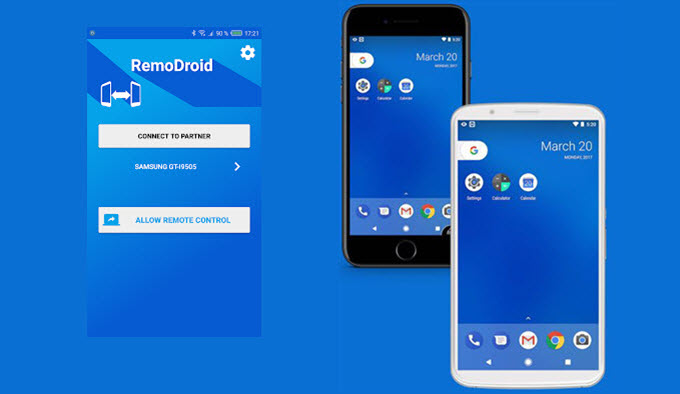 Install RemoDroid on your Android devices.
Once the installation is done, run the app on both phones and tap "Allow Remote Control" on one phone to make it detectable.
After that, click the "Connect to partner" button on the rooted device. The app will then show you a list of available devices. Select the name of the first Android and hit "Connect".
Press "Allow" or "Connect" to display your screen successfully.
AirMirror – Control Android from Android Remotely with or without Rooting Devices
Last on the list that will allow you to control Android from another device is AirMirror. This application is from the developer of AirDroid—a popular phone manager for the desktop. With this, you can monitor your phone remotely and help your co-workers resolve Android issues. Like RemoDroid, rooting of devices is needed but you can still use your phone without going through this process. You just have to enable Non-Root permission which is a little technical. Given that you have a rooted device, let's proceed with the steps on how to remote access Android to Android.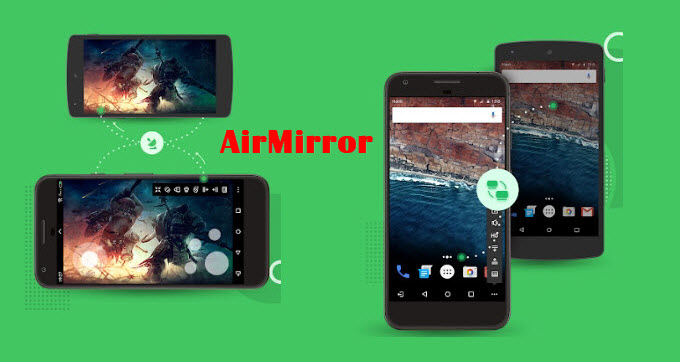 Download AirMirror on one device while installing AirDroid on the other.
Create an account or sign in to the applications (AirMirror and AirDroid) if you are an existing user.
Wait for the connection to take place. Once done, you'll be able to control your Android phone.
Additional guide for unrooted devices:
Download AirDroid on your computer and sign into your account.
From the main interface, click on the third icon from the side panel or the AirMirror logo and hit "Non-root".
Follow the instructions on your screen to enable controlling of Android without rooting.
Conclusion
Generally, there are many mirroring applications from the Play Store that allow you to cast your Android screen to another Android device but only a few of them offers a control mode feature. The three applications above are among those who can provide a secondary display as well as allow users to control Android from Android. To sum it up, TeamViewer does not demand a tedious and additional process to connect between phones as compared to RemoDroid, which needs a rooted device. Meanwhile, AirMirror provides two options to establish connections. One is for the rooted device and the other is for an unrooted one.