3 Tools to Create WhatsApp Stickers
Apowersoft Background Eraser (Android & iOS)
Apowersoft Background Eraser is a versatile sticker maker app for WhatsApp. It is originally a background remover app that can create customize stickers using your own image.
Here are the simple steps that you can rely on.
Choose the "Recognize Person" to upload your image.

The app will process the photo automatically.
From there, you may add background, crop, and flip your sticker.
Once done editing, tap "Save HD".
Pros:
Automatic remove background from the image.
It will clearly cut out the subject from the background.
Offers basic photo editing features.
Save an image in its original quality.
Cons:
You cannot add text or emojis on the subject.
Note
Apowersoft Background Eraser is also available online and on desktop. Click the "Download" button below to experience this amazing tool.
Download
If you want to avail of its giveaway that lets you process 30 images for free, then visit its official page and click "Free VIP Account".
Sticker Maker (Android)
Another WhatsApp sticker maker app that you may rely on is Sticker Maker. This app is for Android devices that can give you amazing stickers personally made by yourself. You may collect a bunch of customized stickers in a folder and also select the shape that you want for your sticker or draw an outline around the subject. Meanwhile, the Sticker Maker app will let you add some decorations, text, border, and many more.
Go to the Google Play Store to download and install the Sticker Maker app.
To make your own stickers, tap the "Create New" button, and allow the app to import the photo that you will use.
Then, crop the photo the way you want it and tap the right arrow to direct you to the editing interface.
Next, customize your own sticker by adding text or decorate it using some objects.
Once satisfied with the sticker, tap the "Save" button.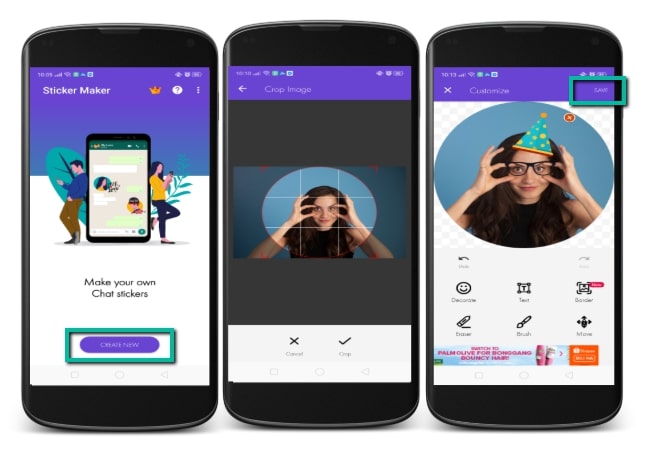 Pros:
Erase photo background for free.
Can make any number of sticker packs.
It consist sticker meme generator.
Cons:
Sometime, results are not accurate.
WhatSticker
WhatSticker can create WhatsApp stickers easily with the use of your iOS device. This app can create fantastic stickers with its awesome features. It has a manual selection and auto tool that can cut out the subject from a picture. From that, the app will allow you to add text, emoji, and another image to complete the overall display of your sticker.
Get the WhatSticker in the App Store.
Open the app, tap the add sign icon at the upper right corner to upload the picture that you will make as a sticker.
Then, remove the subject from the background using the "Subject Selection" tools. If you are satisfied with the cutout process hit the "Looks good!" button.
Edit the subject by adding text, emoji, or another image.
Once done, hit "Create" to save your sticker in your sticker folder.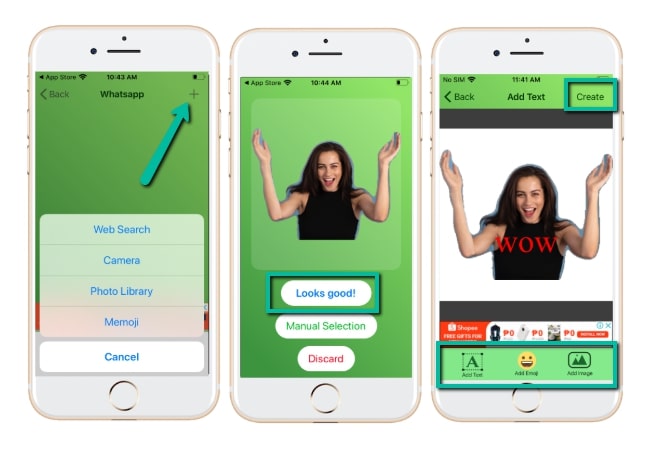 Pros:
Clear photo background automatically.
It will let you add text and emojis.
Cons:
A little bit confusing to use.
Conclusion
| Features | Apowersoft Background Eraser | Sticker Maker | WhatSticker |
| --- | --- | --- | --- |
| Make image transparent | | | |
| Crop image freely | | | |
| Add text and emojis | | | |
| Upload another image | | | |
| User-friendly interface | | | |
Indeed, WhatsApp is lacking stickers and emojis that are used in communication. With the aforementioned tools above you can make customized and unique WhatsApp stickers within your parameter. Share your chosen tool in the comment section below.