How to Create Stickers for Instagram
The process of making personalized stickers is not complex. Especially if you are using useful and reliable tools, which are designed for creating awesome stickers. In fact, there are tons of sticker makers in the market that can be used effectively and does not require any photo editing skills. Worry no more as we collect some of them.
Apowersoft Background Eraser (Desktop)
Apowersoft Background Eraser is the best desktop solution that helps you create Instagram stickers in an instant. It enables users to eliminate the background of your photo automatically. Furthermore, you can use its useful editing features that can create attractive stickers. To achieve that using this user-friendly tool, follow the steps given below.
Click the "Download" button below to install the program.
Open it and choose a recognition to import a photo.

Then your image background will be removed automatically.

Click the "Change background" button if you want to add some backdrop.

Then save it by clicking the "Save" button from the interface.
Online Background Eraser (Online)
Another best solution that helps you on how to make Instagram stickers is an online version of the first tool. But Online Background Eraser is absolutely free and registering is not necessary before you can use it. With its user-friendly interface and easy to understand features, the process of making stickers is easy as 1 2 3. Below are the steps you can follow to learn how to use this simple Instagram sticker maker.
Go to its official site, choose among the three recognitions, and click the "Upload Image" button to upload a photo.

Wait for this tool to remove the background from your image. You will see the precise cut out from your image.

Next, click the "Edit" button if you want to replace your background into a new one.
If you already satisfied with your customized sticker, click the "Download" button.
Canva (Online)
Canva is an online sticker maker for Instagram that enables users to create cool stickers. You can use cool typography or photo of yourself making a funny face that can be used as a sticker. Added to that, your chosen file that you want to edit and upload into the app must be with transparency – no white or colored background. Furthermore, Canva provides editing section designed only for making Instagram stickers, and that comes with thousands of templates to add color, filters, and more. Refer to the steps given below to learn more about the tool.
Visit Canva from your browser and your most liked template that this tool has to offer from the left side interface.
Edit it by changing its size, color, fonts, and more.
Finally, click the "Copy page" option and click the "Download" icon to save it on your PC.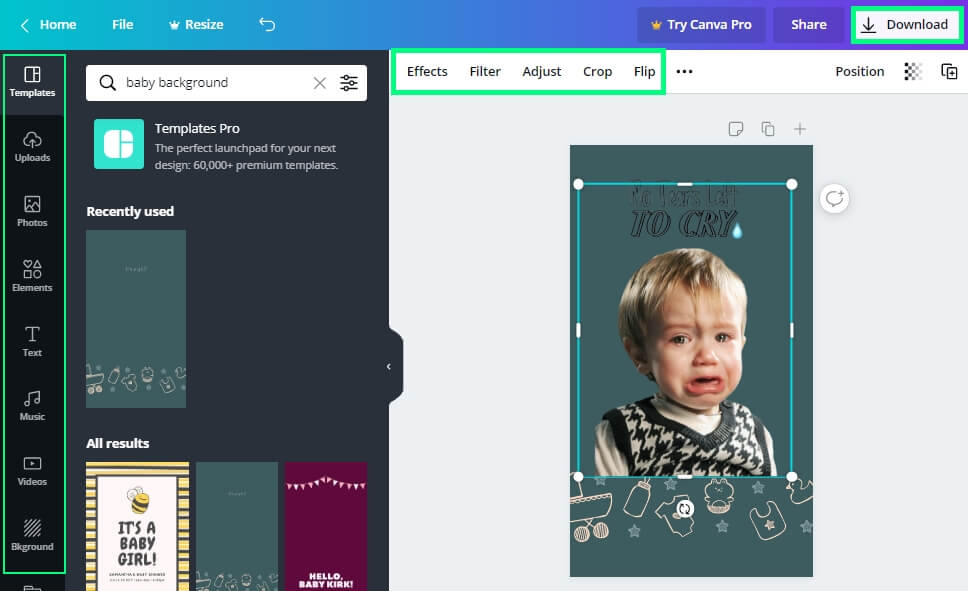 PicsArt (Android & iOS)
PicsArt is a professional Instagram sticker maker for Android and iOS users. This app has a drawing section where you can make your own cool stickers. You can create typography as well as use available stickers provided in this app that allows you to customize based on your desired result. However, this app comes with lots of ads that frequently appear when you started using it. Yet, if you are looking for the best sticker maker for mobile phones, then this app is perfect for you. Just follow the instructions listed below to learn how to use it.
Install the app from theApp Store or Google Play Store in your device.
Open it and go to the drawing section and tap the "Create New" button to start making your own sticker.
From the editing section, you can either use the text feature or choose from its built-in stickers. Just hit the photo with a plus icon to import select a sticker.
To process and save it on your device, tap the "Three-dots" icon from the upper right interface, and hit the "Save" button.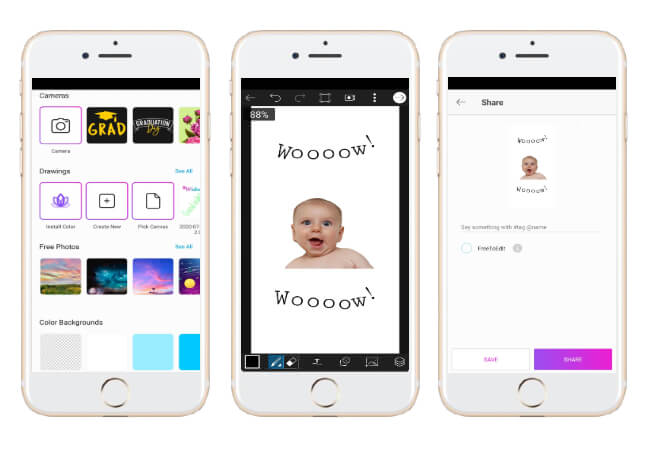 Sticker Maker (Android)
Sticker Maker is also a reliable app to create instagram sticker. This app offers amazing features that allow you to add stickers with custom fonts and colors, delete image background with freehand crop and eraser tool, add funny decorations such as beards, hats, smileys, and more. In addition, this app offers a user-friendly interface that makes the process of making stickers simple and quick. In order to create a personalized sticker using this app, follow the steps below.
Go to your Google Play Store to search for the app and have it installed.
Tap the "Create New" button and choose an image from your device.
Once imported, you can crop, rotate, or flip if you want. Then tap the "Decorations" options to add funny elements or you can use the "Text" option to write anything on the sticker.
Then "Save" option when you are done editing.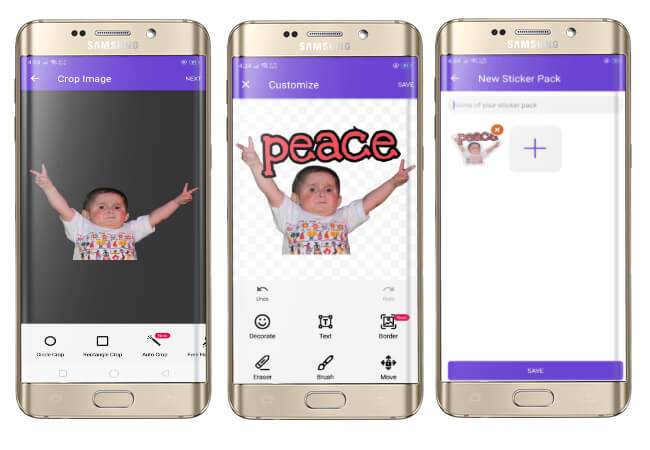 Sticker.ly – Sticker Maker (iOS)
If you are still looking for useful sticker maker for Instagram available for iOS device, then Sticker.ly is the best option for you. This app provides Auto Cut Technology that can make use of to create unique stickers for your Instagram stories. Also, it will help you erase the background image. Furthermore, you can add captions to your sticker.
Install the app from your App Store and tap the plus sign icon from the interface once installed.
Next, tap the "Add Sticker" button to import the image that you will edit from the app.
Then a new interface will appear showing the imported photo, start to edit it using the "Adjust" icon to delete the background from your image.
Hit the "Save" icon to add your customized sticker in your folder.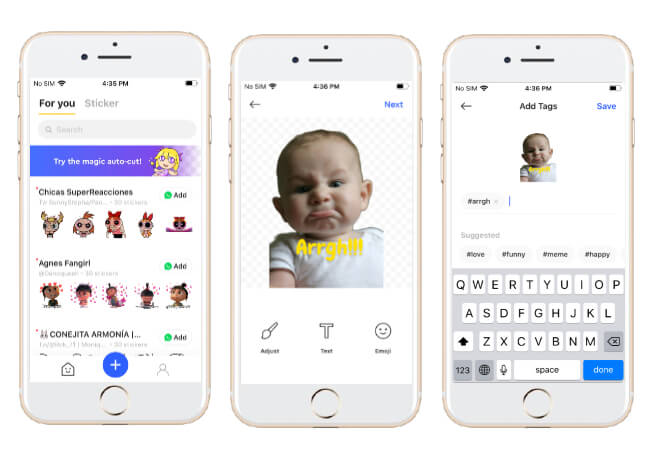 How to Apply Personalized Stickers to Instagram
If you already created your personalized stickers using the aforementioned Instagram sticker maker, then you can now add them to your Instagram story. There are two simple ways to do that task. First, you have to use the Sticker menu on Instagram stories. Second, you can use a third-party tool available from your iOS is you have.
Instagram app (Stories)
Instagram app specifically from its Story menu enables users to add directly your customized stickers from your image or video. You just have to visit your photo library where you saved your stickers and apply them in your Story. Besides, this app lets you add stickers as many as you like.
Go to your Instagram app and tap the camera icon from the upper left interface to start working with your story.
From there, tap the "Circle" button to capture an image and then hit the "Sticker" icon and "Photo" icon to select your own sticker saved from your device.
If you already satisfied, tap the "Save" icon to download and will save it on your device. You can also tap the "Your Story" icon if you want to share it with your friends in this app.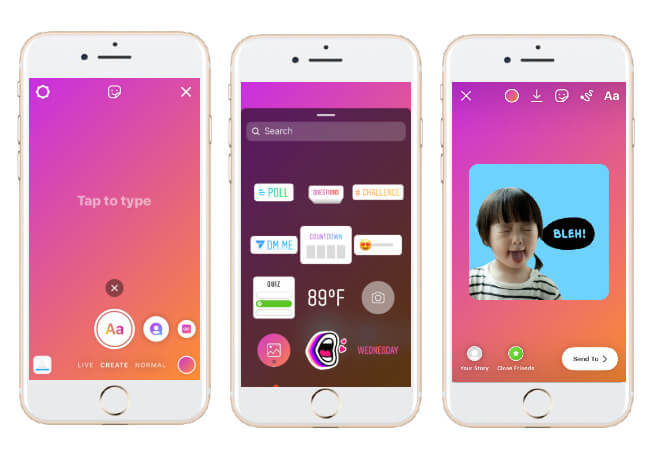 Using Cameral Roll from iOS smartphone
With the help of your iOS device, you can add your own stickers from your Instagram. It has a "Copy Photo" function that will automatically add the sticker in your Instagram Story that you save from your device. But make sure you prepared the app to add a sticker before you will use this function. Here's how you can use it to add your personalized stickers on Instagram.
Open your Instagram Story and prepare to add a sticker.
Then go to Camera Roll to select a sticker that you will add from your Story.
After that, tap the "Export" icon and choose the "Copy Photo" icon.
Once done, go back to your Instagram Story and the sticker will automatically appear.
Place the sticker by dragging it to where you want it to be placed. Hit the "Save" icon to save it on your camera roll.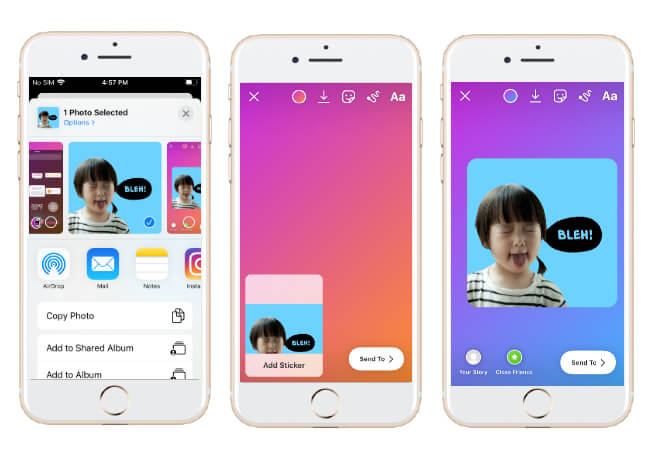 Conclusion
In this article, we have introduced several Instagram sticker maker. Using the aforementioned tools, you can easily create your own cool stickers for your Instagram stories. Choose among them and leave us a comment if we miss your favorite sticker maker.