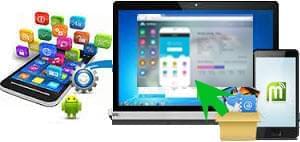 Having extendable ability of holding various apps and files, Android phone turns out to be more and more difficult to manage. Many people like me prefer to organize data on computer, for it will be more intuitive and efficient to work with large screen. In the current market, there are various desktop Android managers available, but not every of them exactly suits your demand. Luckily, there is such an app that not only helps you efficiently manage your Android on PC, but also enables you wirelessly to handle your mobile.
AirMore – the best tool to manage Android from PC
This online app is a comprehensive mobile management tool which is web-based and allows you to wirelessly manage your Android phones or iPhone on Windows or Mac. Thanks to its excellent performance and superb user experience, this app deserves a place among other similar applications.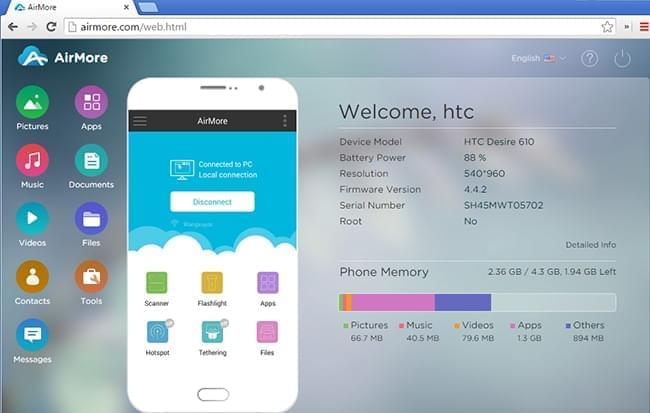 A Handy Way to Manage Android from PC
AirMore empowers you to undertake most of your common Android tasks on a PC. It's easy to set up and get running whether on your Mac or Windows PC. It can perfectly manage your Android when PC and phone are in the same network.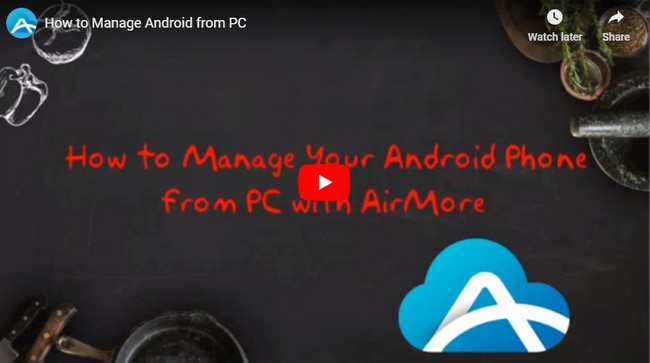 1. Connect Android Phone with this app
To take full control of your Android device on the computer screen, all you need to do is to download AirMore from Google Play Store, install and run the app on the web. Scan the QR code to connect your handset with the app.
2. Manage Android media files from PC
Media files usually occupy most of the memory and thus it is necessary for users to make good management of them. Using this program lets you quickly go through these files and move them onto computer.
Once connected with your mobile, choose corresponding media button. Transfer music, videos and photos between computer and Android phones by clicking the "Download" or "Upload" buttons.
You're able to check media files with the tool's built-in player before deciding to move or delete them.
It also clearly displays music or video information such as name, duration and size.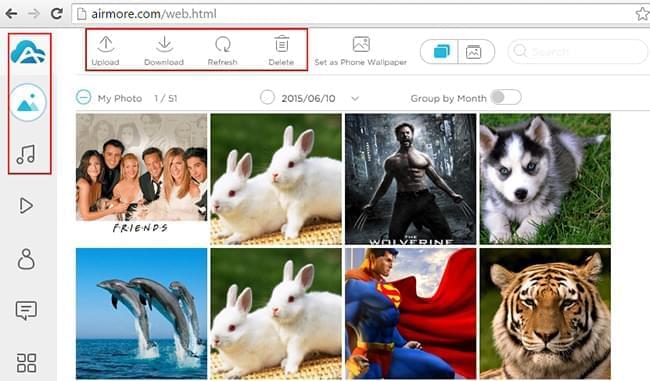 3. Manage Android documents from PC
When you have trouble in managing your chaotic documents on the narrow Android screen, why not let this document manager help you out.
Transfer such documents as word, excel, ppt, txt, zip, pdf and ePub between this app and Android.
Delete useless documents by hitting on "Delete" button.
Search certain one among a pile of documents on the web for your further operation.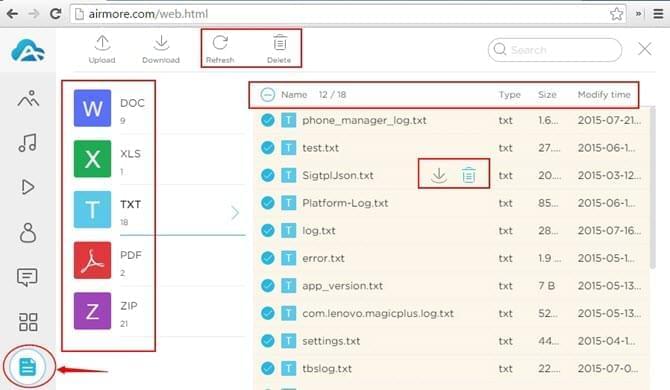 4. Manage Android contacts from PC
If you are looking for a wireless way to manage your Android contacts on computer, AirMore will undoubtedly satisfy your demand.
Click "Contacts" tab and you can see all the contacts stored on your handset.
Choose "Import" button to add those contacts stored on your computer while click "Export" button to backup one or all your contacts on PC.
Remove undesired contacts out of your device by selecting "Delete" buttom. You can also edit contacts when you need to revise information or add new number etc.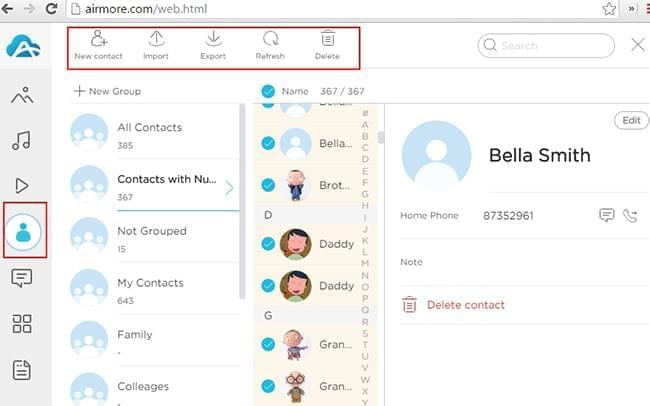 Other useful AirMore features
In spite of the above functions that address your needs on how to manage Android on PC, there're even more valuable features for you.
Send and receive SMS on this app's web.
Install or uninstall Android applications in an efficient way.
Refresh button always makes you access your files at a quicker speed.
Search bar enables you to exactly locate a certain file.
You can now get started on using AirMore right now by heading to the its website and installing this wireless Android manager tool. Wirelessly connect your Android smartphone with PC to elegantly manage aforementioned files.