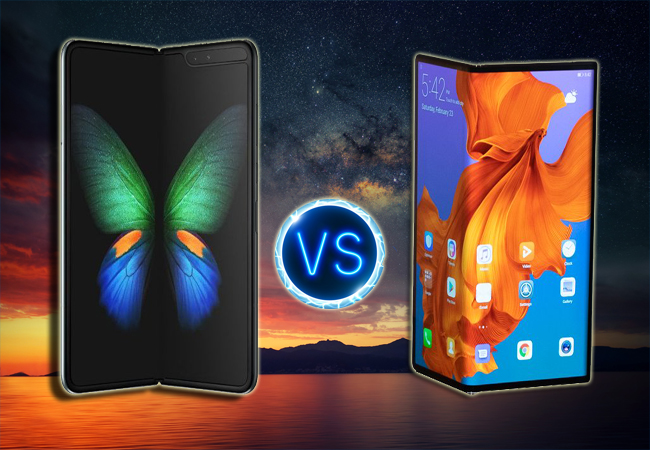 The much-anticipated foldable smartphones finally arrived, unveiling Huawei's Mate X and Samsung's Galaxy Fold. The Galaxy Fold is like two phones stuck together. There's a small screen outside and a huge display when unfolded. On the other hand, Mate X takes another approach of wrapping the screen outside the device. These handsets are incredibly compelling, yet each takes a unique stab at trying to top one another. On that note, we will have a look at the detailed comparison between Samsung Galaxy Fold vs Huawei Mate X.
Detailed Comparison between Galaxy Fold vs Huawei Mate X
Design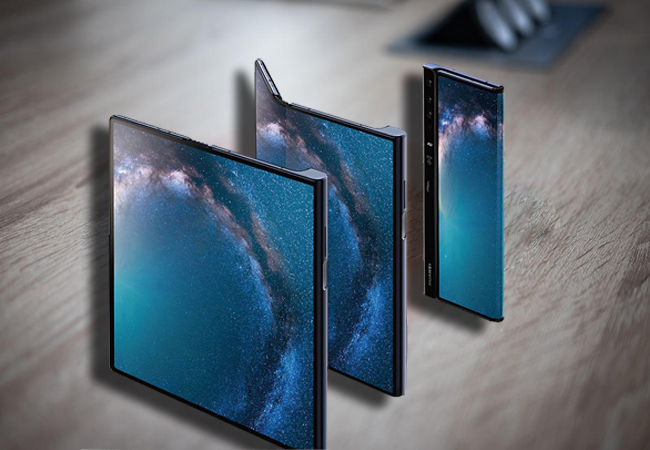 Both devices are foldable phones yet they are completely different with regards to design and construction. Samsung Galaxy Fold is comprised of two separate display. A small screen on the outside, which acts like a regular phone and a larger display activated when unfolded. The handset is designed to open just like a book to reveal the larger screen display inside. And when it is folded, a small screen display lights up that is intended for one-handed use. Meanwhile, the Huawei Mate X is opposite. There's only one panel wraparound outside the device rather than the inside to give a tablet-like experience when unfolded. When it's folded up, the screen is divided into two display; one on the front and a rear display which sits right next to the grip. For the design, Galaxy Fold vs Huawei Mate X shares different approaches. Yet it's notable that Mate X is a bit thinner and is more comfortable to carry around.
Screen Display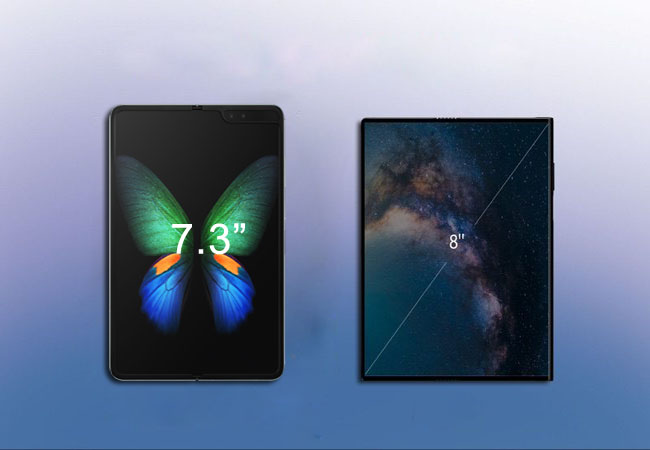 As mentioned, you will find a small 4.6-inch screen on the Galaxy Fold's outside, OLED with 1960 x 840 resolution, suitable for one-handed usage. When unfurled, the combined screens become one 7.3-inch OLED screen, 4.2:3 aspect ratio along with the little notch on the upper right corner that houses the two cameras. On the other hand, Huawei Mate X has a single 8-inch OLED panel with 2480 x 2200 resolution. Fold the device, and you will get a 6.6-inch display on the front and 6.38-inch screen on the back. The handset opted to all-screen display and you will find the triple camera on the little bump or can be considered the "grip" of the foldable form.
Processor and Software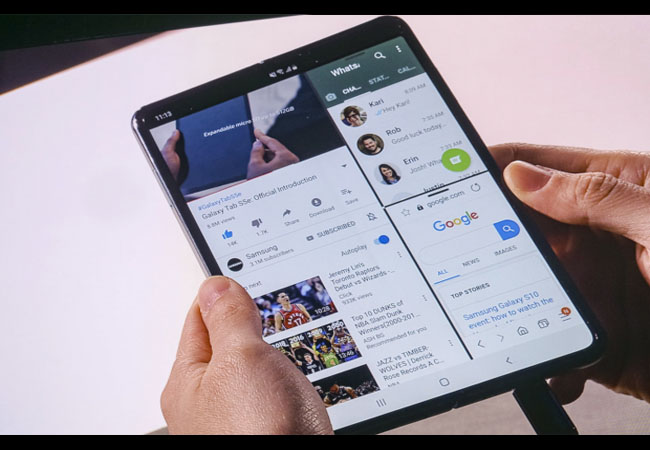 As far as Huawei Mate X vs Samsung Galaxy Fold performance is concerned, it's safe to say that Galaxy Fold offers better specs with its powerful Snapdragon 855 chipset and 12 GB RAM. Huawei Mate X, however, features the Kirin 980 processor paired with just 8GB of RAM. With that being said, you will expect a snappy performance on Galaxy Fold and multi-tasking is way better. Furthermore, both devices support 5G networks which means you can expect faster connectivity. .
Camera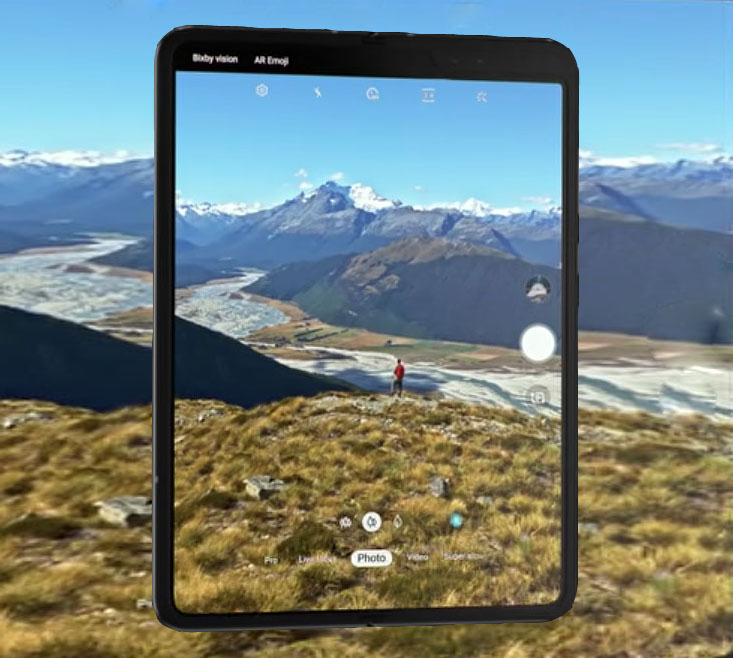 You will find a triple Leica camera on Huawei Mate X, a 40-megapixel rear primary camera coupled with f/1.8 aperture, a 16-megapixel ultra-wide-angle lens as a secondary camera, and an 8-megapixel lens with f/2.4 aperture. These cameras are placed on the back of the handset and you can take selfies using the secondary display. Samsung Galaxy Fold gives you three cameras on the back, two front cameras and one on the cover for a total of six cameras. The primary rear camera has a 16-megapixel ultra-wide-angle unit, 12-megapixel wide-angle sensor, and a 12-megapixel telephoto. The included dual camera on front sports a 10-megapizel primary camera sensor and an 8-megapixel; RBG depth lens. The selfie camera on the cover will be a 10-megapixel selfie camera. When comparing between Huawei Mate X vs Galaxy Fold, you may choose the Mate X with its simple camera setup.
Battery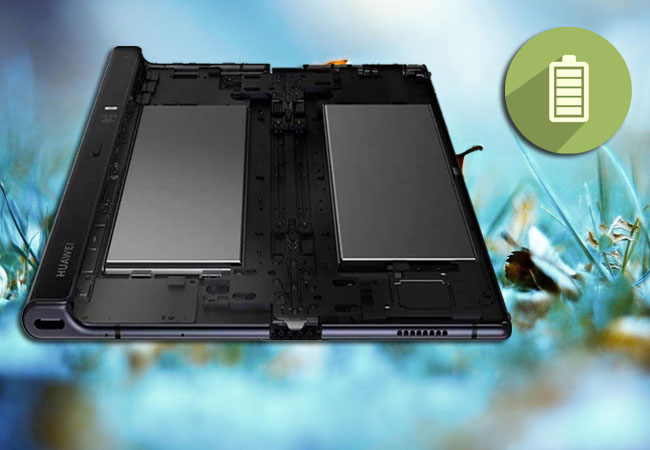 Both smartphones offer a massive battery life. Galaxy Fold boasts 4,280mAH and there's a whopping 4,500mAh battery on the Mate X. Huawei's foldable also integrates an upgraded version of Huawei Supercharge that allows the device to charge to 85% in half an hour. And while, Samsung's foldable will support both wireless and wired charging, and wired charging setup will remain on Huawei's Mate X.
Conclusion
Overall, both devices are compelling and offer uniquely different solutions for consumers. Mate X comes with thinner dimensions, which is more appealing, yet the idea of wrapping the screen outside invites scratches and might be a deal breaker. Meanwhile, Galaxy Fold is a durable foldable that can be folded to fit into a pocket. Even so, these devices are incredibly unique and that means choosing which device is better depends on someone's distinct needs.