Since the debut of Samsung Galaxy S6 Edge, it has received big popularity among its large user base for its elevated design and faultless performance. When you purchased such a beautiful Galaxy, one of the important things is to transfer contacts to it, so that you can keep continual contacts with your friends or family. However, it seems not an easy task. Luckily, this post will introduce you two ways to move contacts from different sources to your new Galaxy S6 Edge.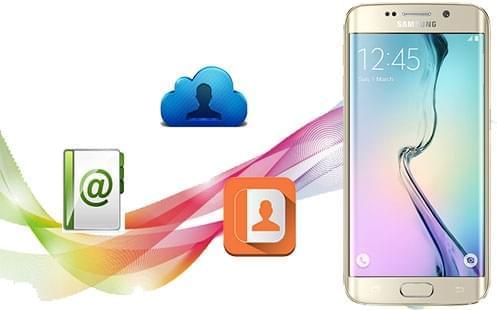 Easy guide to transfer contacts to Samsung Galaxy S6 Edge
AirMore – Wirelessly Transfer Contacts to Samsung Galaxy S6 Edge
AirMore makes full use of wireless internet connection to transfer contacts, music, videos and many other files between your Android phone and PC. As a professional mobile device management tool, this app enables you to manage your Samsung galaxy contacts without using USB cable.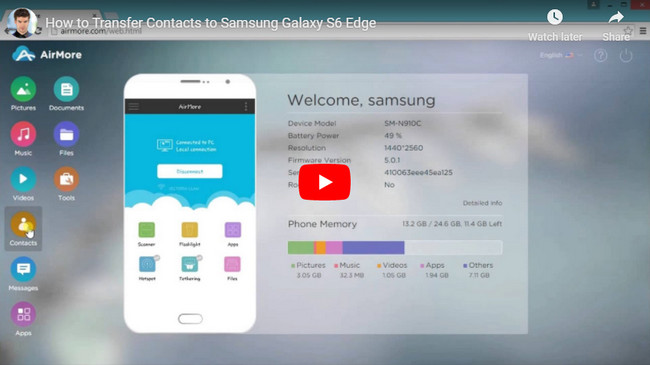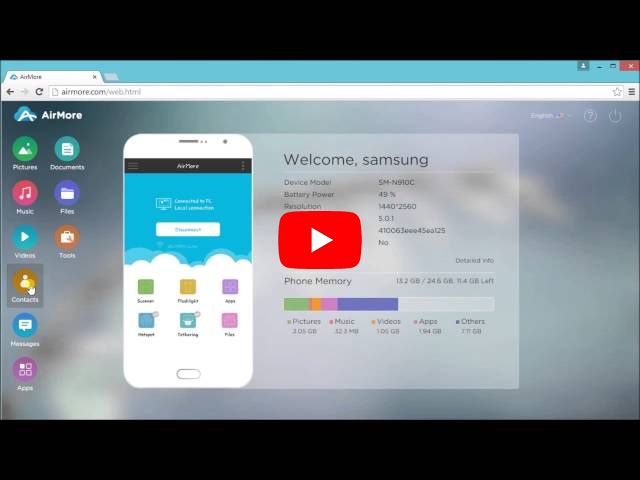 Visit AirMore homepage and click "Launch AirMore Web to Connect" button on the lower right corner.
Use your device to scan the QR code displayed on the web. Click "Accept" option when a dialog pops on your Samsung.
Click "Contacts" icon on the left side of the website and then click "Import" button to transfer contacts from PC to Samsung.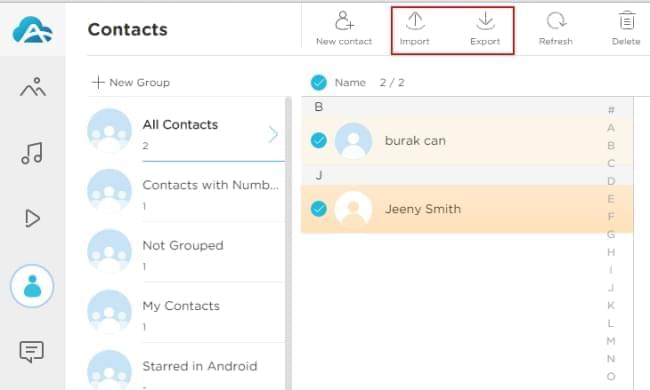 Note: Your phone and PC are required to be in the same WiFi network environment to establish connection between your phone and AirMore.
In fact, you can also use it to transfer contacts from old Android to Samsung. Just export the contacts from old Android phone to PC and then import them to the new Samsung Galaxy. As a cross-platform tool, AirMore also allows you to manage any Android phones from PC. It supports you to play any Android videos or music on the web. If you do not want some media files, you can also remove them by clicking the "Delete" button to free up more space.
Google Sync Service – Transfer Contacts Samsung Galaxy S6 Edge
If your previous contacts happened to be stored on old iPhone or Android, anther easiest solution to getting contacts onto your new phone is to make most of Google's syncing service on your old phones. When you can access to your old device, the process would be rather easy.
Situation one: iPhone contacts to Galaxy S6 Edge
Open the "Settings" menu on your old iPhone and then select "Mail, Contacts, Calendars". Click "Add Account" to locate "Google" option. Then you need to fill in user name and password for the Google account. Make sure this account is associated with your new Android phone. After that, your iPhone will spend about an hour syncing your contacts to Google's servers. When you sign in with the same account on your new Galaxy S6 Edge, your contacts will automatically be imported to this new device. In this way, you manage to easily transfer contacts from iPhone to Samsung.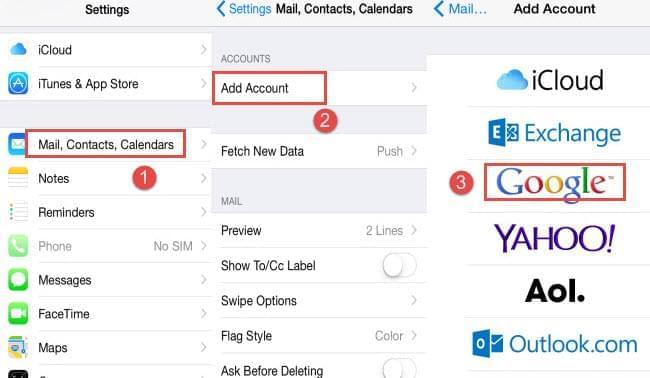 Situation two: Android contacts to Galaxy S6 Edge
If your old phone is another edition of Android, Google also makes it easy to transfer contacts from Android to Galaxy S6 Edge. Go back to "Settings" and then select Google and enter your Gmail account under "Accounts & Sync". Click this Gmail account and then you will see a list of items to sync. Once you tick the "Contacts" box, your contacts will be transferred to Google's servers. Next start your new Android phone and sign in the same Gmail account. Your new Galaxy S6 Edge will sync contacts automatically. Just a while, you can transfer contacts to Samsung Galaxy S6 Edge.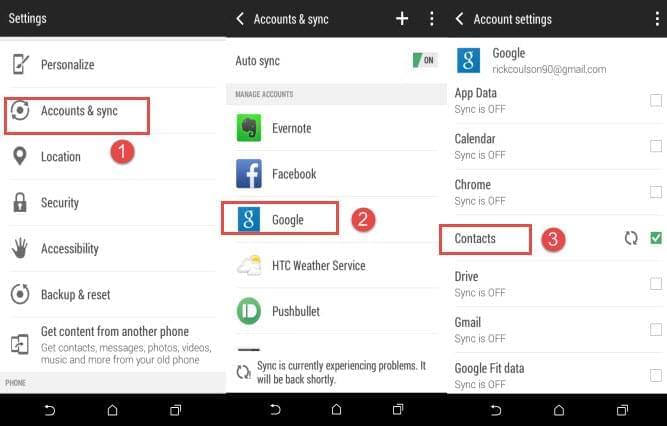 Conclusion
Google sync service is good for users to transfer contacts from one phone to another, but one disadvantage of it is that it syncs all the contacts to your new phone without filtering. As a result, you may move some useless ones to your new device. Comparatively, AirMore offers users more options to decide whether move all contacts or particular ones to Samsung Galaxy S6 Edge.