5 Best Background Changer Apps 2022
Apowersoft Background Eraser (Android & iOS)
Apowersoft Background Eraser is a simple yet professional background app. This background changer app provides preset colors and well-designed backdrop templates for people to replace the original photo background. No need for any special photo editing skills.
Open the app, choose the recognition that you need, and import the photo.

Wait for the transparent result, then select "Background".

Choose the template that you need.

Tap the "Save HD" button afterward.
Pros:
It has built-in backdrop templates and preset colors.
It provides an intuitive interface.
It automatically removes the background with one tap.
Cons:
Note:
Go to the web version page of the tool to get the 100 images giveaway.
Ultimate Background Eraser
If you are looking for another best photo background changer app on Android, Ultimate Background Eraser is for you. This app offers an easy way to change photo background in an instant. Its interface is quite intuitive so you can find its all functions clearly. With this app, you can easily remove the background and add a new background for it in just a snap of your fingers.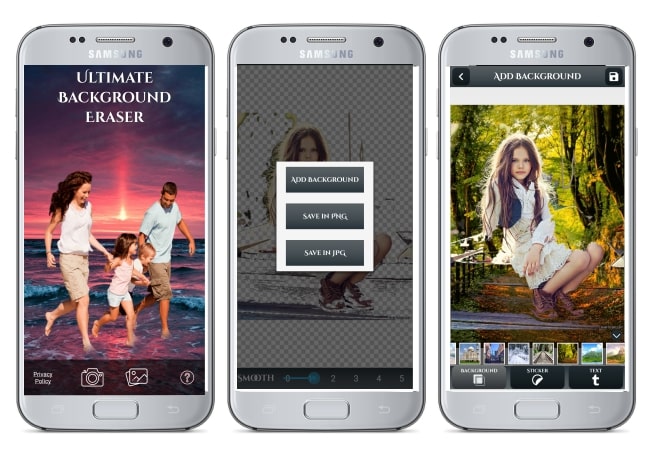 Pros:
It provides nature themed designs of backgrounds.
Allows saving files as PNG and JPG.
Cons:
It only offers limited backdrop designs.
Photo Backgrounds
Another best background changer app for Android is Photo Backgrounds. This app offers a wide variety of photo backdrop designs with different themes, as well as live wallpapers like nature, waterfall, forest, and more. With just a little effort, you'll be editing images in no time because of its intuitive interface. Furthermore, you can add text on your photo just like a watermark, logo, or message.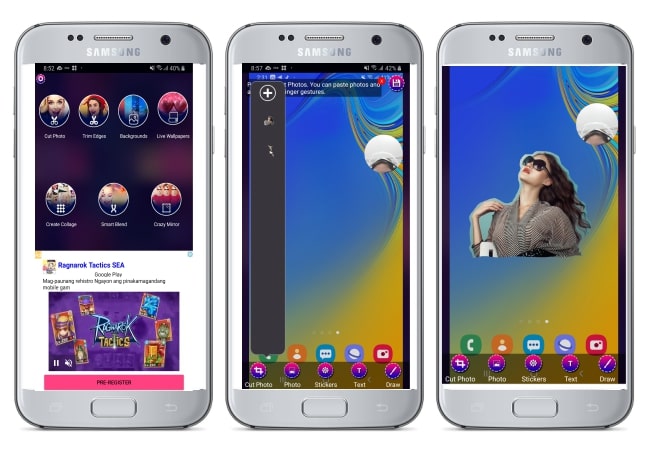 Pros:
It offers live wallpapers that you can use as a backdrop.
A variety of backdrop designs are provided.
Cons:
It doesn't have solid background colors.
Cut Paste Photo & Blend in Pic
For all iOS users, Cut Paste Photo is the best background changer app for iPhone. As its name implies, it will allow you to cut photos from the background and paste it to another backdrop design. This iOS app will let you choose from its hundreds of high-quality backdrop templates. Also, it has a pre-set cropping ratio for different social media sites like Instagram, Facebook, Twitter, and more.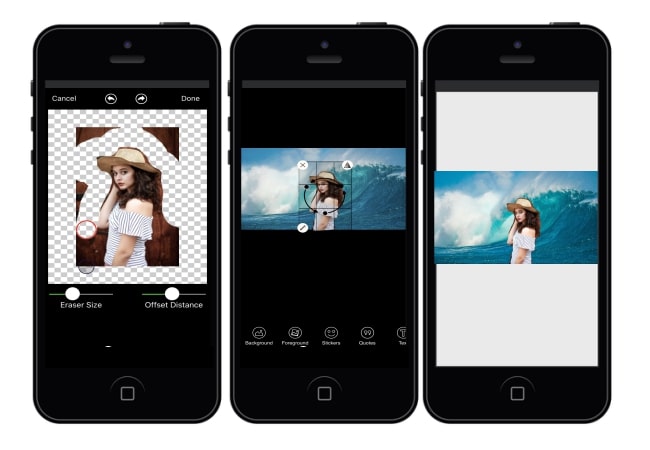 Pros:
It will let you choose the specific background that you want.
It provides editing functions for the foreground.
Cons:
It only offers one theme for the backgrounds.
Magic Eraser Background Editor
Have a great experience with Magic Eraser Background Editor, the best background changer app for iPhone. After you import your photo, it will remove the background, and you can crop the photo in different ratios, such as 1:1, 9:16, etc., to suit your social media. It also has some other photo editing functions to enhance your photo, in addition to remoing and changing background.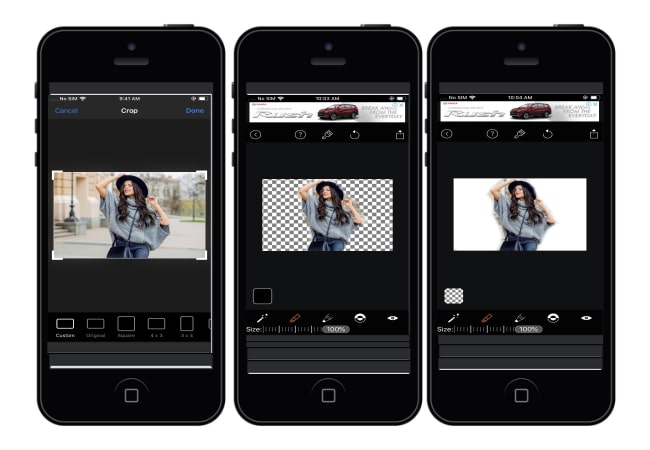 Pros:
It will allow users to upload their own background design.
It has an intuitive interface.
Cons:
It doesn't have built-in backdrop templates.
Bottom Line
| Features | Apowersoft Background Eraser | Canva | Clipping Magic | Magic Eraser Background Editor | Auto Background Changer |
| --- | --- | --- | --- | --- | --- |
| Automatic background remover | | | | | |
| Offers built-in background templates | | | | | |
| Background colors | | | | | |
| Use customized background design | | | | | |
| Intuitive Interface | | | | | |
| Compatible for both Android and iOS | | | | | |
With the help of these best background changer apps, it will be very easy to get stunning results on your phone. It should be mentioned that not all of them are free to use. But if you like the free version, they are worth your money to achieve a great photo in just several taps and seconds. If you have other apps to recommend or complaints, let us know in the comment.