Free Apps to Transfer Photos Between iPhone and OnePlus
Professional App – ApowerTrans
Specialized in phone-to-phone transfer, ApowerTrans provides convenient and fast transmission service. It can transfer data including pictures, videos, music, etc. with one click. The transfer speed surpasses Bluetooth. What's more, this user-friendly program tries its best to make the interface clear. You can easily know where you can find your files and how to transfer data. This application supports Android and iOS systems, and there is no difference between the two versions. Thus, you do not need to spend time getting familiar with the different versions. And there are no ads in the app. Better yet, it offers three connection methods: Radar connection, Scanning QR code and Transmission without network, which is also a great convenience for users.
Now, follow the steps to transfer pictures.
To move iPhone 7 images to OnePlus 3T, tap the button on the bottom right corner on both phones. It will jump to "Radar" mode.
On iPhone, choose the avatar of Android phone to establish the connection.
Go to "Albums" and go to one folder to select pictures. And tap "Send" and the Android will receive the images.
You can also go to "Scan" mode and connect Android to iPhone by scanning QR code. Just choose "Scan" on iPhone, tap the menu button on the top left corner on the Android and press the code button to get a QR code. Use iPhone to scan the QR code.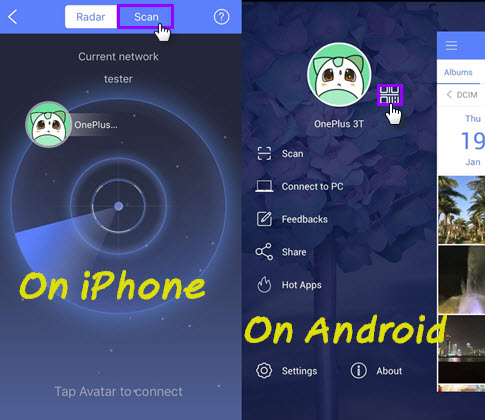 And if there is no WiFi available, you can use the following method:
On OnePlus 3T, tap on the question mark on the upper right corner of "Radar" interface. And then turn on "Hotspot".
On iPhone 7, set the network connected to "Apowersoft". Go back to the app, connect through Radar and start transmission.
To export photos from OnePlus 3T to iPhone 7, apply the same way to connect phones, and then select and transfer images from Android to iPhone.
Comprehensive App – Send Anywhere
Like the app mentioned above, Send Anywhere is a program which allows you to transfer data not only between phones, but also between phone and PC. It can connect devices via Key and QR code. The Android version differs a little bit from iOS version, but both interfaces are clear. With it, you can transfer photos, videos, audio, apps, contacts and files between the mobiles.
Install this app on your OnePlus 3T and iPhone 7.
To move iPhone 7 images to OnePlus 3T, tap "Send" on iPhone and check the pictures you like. Press "Next".
You will get a code on iPhone. On Android, hit "Receive" and type the code in the input box and tap the download button. It will directly acquire the photos onto OnePlus 3T.
If you want to get Android photos on iPhone, choose the images on the "Send" interface, tap the red button on the lower right corner on Android. Go to "Receive" on iPhone and enter the key in the input field to enable transfer.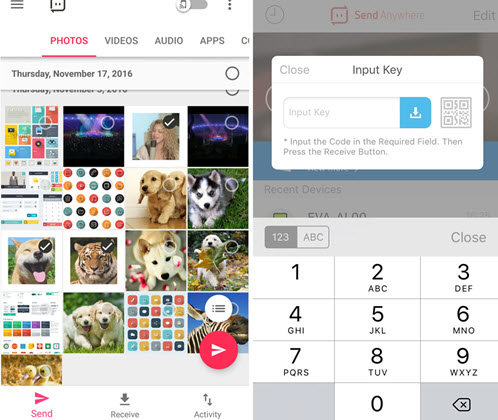 Note that, the key will be invalid after transmission. Also, it will expire within 10 minutes if you do not use it.
Summary
Both apps are free but terrific in transferring data. No advertisement or useless notifications, fast transfer speed and easy operation process. Send Anywhere is strong enough to satisfy all your need to send files wherever you want. However, if there is no network, you cannot transfer anything with it. On the contrary, ApowerTrans allows transmission without WiFi which may help you get rid of this worry and save your money on mobile data.