Tools to Change Photo Background Color to Blue
Mobile Solutions
Apowersoft Background Eraser (Android & iOS)
Apowersoft Background Eraser is the most accurate app that can replace background color with blue. You can change it by simply removing the unwanted background automatically with the help of its advanced AI tech. Also, this app is especially good to all beginners out there because of its user-friendly interface and it is armed with the basic tools you need to remove and replace the background. Change photo background to blue with the help of this amazing app.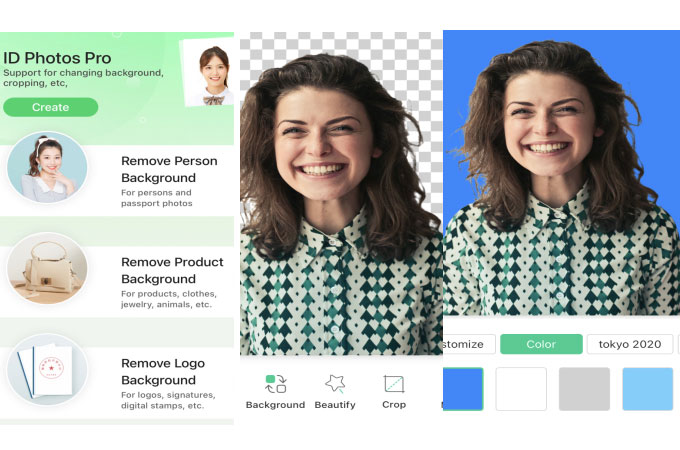 Main Features:
Remove background automatically
Offers manual removal tools for better results
Provides a wide-range of solid background colors and templates
Process photos in bulk
Seamless photo background editor
Background Changer
Background Changer is another app that you may have on your Android phone. This app is definitely a total package in photo background editing. With its amazing features that can automatically erase and replace the background, you can save a lot of time and effort. Likewise, with its abilities as a background editor, you can easily change photo background to blue in just a minute.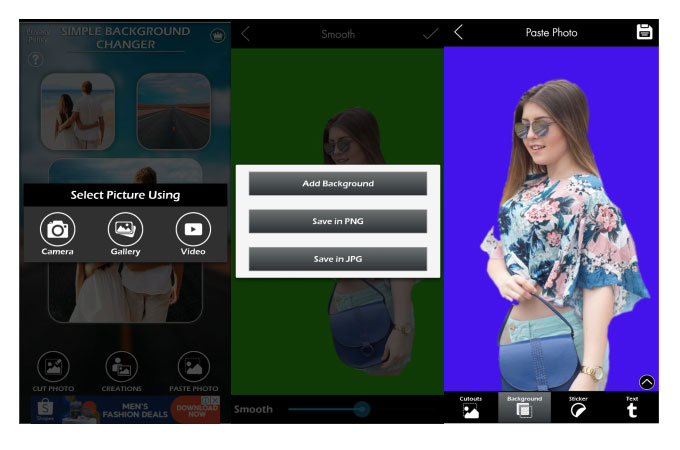 Main Features:
Delete and erase background with just a tap
Crop and resize image
Contains different HD photo backdrop templates and plain colors
Adjust brightness, contrast, saturation, etc.
Massive beautiful effects and filters
PixelCut
PixelCut is another app that you may rely on in making your photo background blue. This app will help you to make any of your subjects look professional. Besides, it can instantly remove the background and place a new background color or templates with just simple taps. With the use of its feature that can automatically cut subjects from the background, you can save time and effort. Then, change background to blue or other plain colors that you like by adjusting the color palette.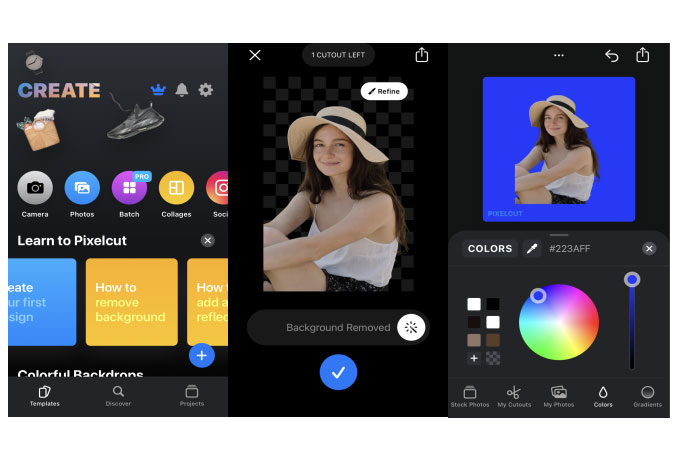 Main Features:
Instantly get rid of background
Provides a color palette for plain colors and backdrop designs
Control the shadow on your main subject
Add different text styles
Online Solutions
PicWish – 100% Free
Edit photo background online with the help of PicWish. This 100% free web-service tool has the ability to remove background from a photo automatically with the use of its advanced AI tech. And because it is more than just a background remover tool, you can change photo background to blue, alongside its other solid background colors and stunning background templates.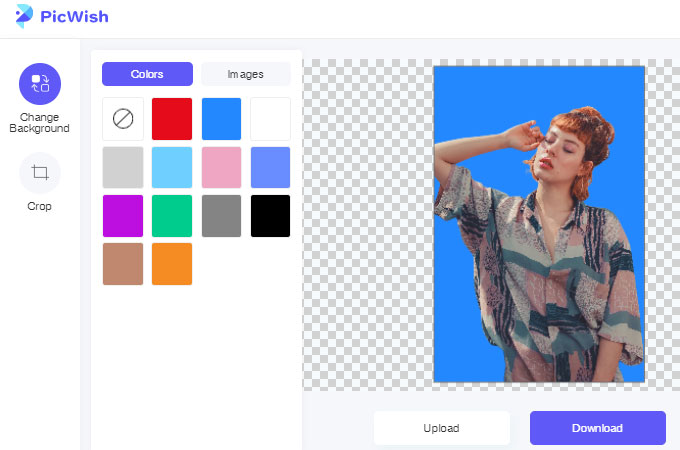 Main Features:
Get rid of unwanted background in one click.
Offers numerous solid background colors and templates
Save photo in high definition.
Seamless photo editor
Apowersoft Online Background Eraser
Apowersoft Online Background Eraser is one of the best free web-service tools that will precisely replace a photo background with a new one. This tool has the simplest way of removing the background and creating your photography to the next level. With Apowersoft Online Background Eraser you can change background color of photo to blue online effectively, time-saving and fun.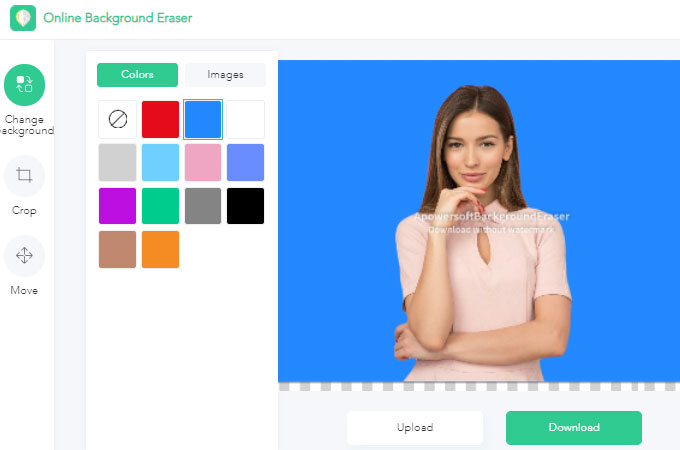 Main Features:
Uses advanced artificial intelligence feature for automated process.
Remove and replace background in bulk
Unique photo background templates and plain background colors
Contains basic photo background editing features
Note
Apowersoft Background Eraser is available on Windows and Mac. Don't miss the chance to avail its giveaway activity by visiting this page.
Remove.bg
With Remove.bg you can replace any photo backgrounds for free. Remove the background from the photo and easily replace it with a better one. Additionally, you will have the freedom to choose what shades of blue color you want and other plain colors. You will effortlessly process all your images and change photo background to blue with Remove.bg.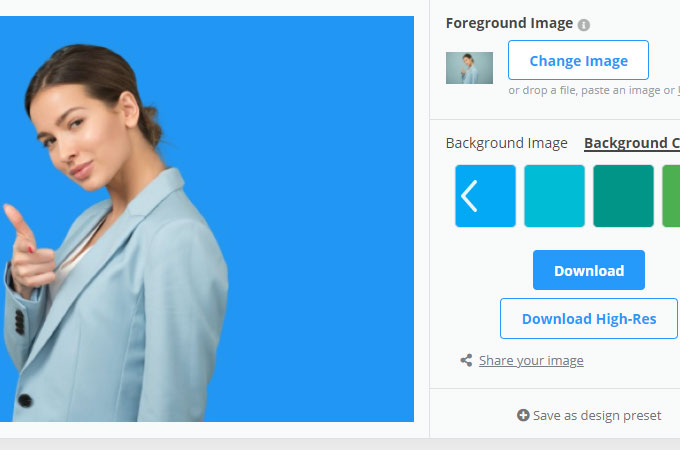 Main Features:
Erase background automatically
Change background with the pre-set background image and color
Save photo in high-quality
Integated with other software
Picsart
Edit your photo background to perfection with Picsart. This online tool comes with multi-purpose in erasing any background from photos by selecting the eraser tool and touching the edges. Most importantly, it will let its AI detect the background area and replace the photo background with another color that you need. Surely, this online tool will change background to blue without exerting a lot of effort.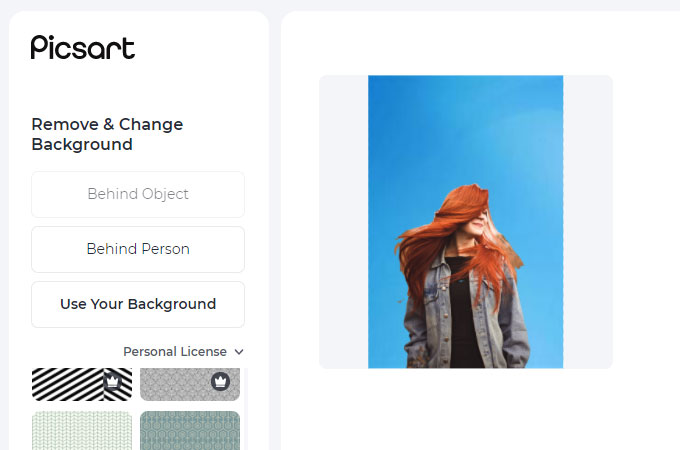 Main Features:
Automatically remove photo background
Upload your own backdrop design
Change background instantly
Save original photo quality
Conclusion
Here are the leading tools that can make your background color blue without any hassle. With their ability to replace any photo in different photo background colors or templates, you can achieve a satisfying result. Among the tools listed above Apowersoft Background Eraser and PicWish are the most efficient ones. That's it, they are indeed effective tools to change background color to blue because of their user-friendly interface that you can navigate easily.