How to Transfer Data from iPhone to OnePlus 6T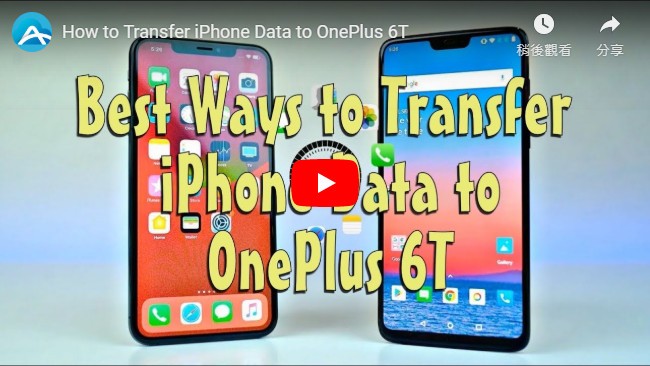 Free Transfer App- AirMore
AirMore is a free iPhone to Android data transfer app that can be used to move data from iPhone to OnePlus 6T. With this tool, all your iPhone data like music, photos, and videos can be transferred directly to your Android device. Besides, AirMore will transfer at a high speed even for movies with large file size, and it can transfer a one-hour video in just 3 minutes under a strong WiFi signal.
AirMore comes with a user-friendly interface for you to get files you need without any complicated setup, and it provides a built-in media player that enables you to preview your content before transferring them. Aside from its file transfer capability, you can use its screen reflector function to reflect smartphone screen to PC. Here's a simple guide on how to transfer data from iPhone to OnePlus 6T using this app.
Then connect the two devices to the same WiFi network.
Now, run AirMore app on both your iPhone and OnePlus 6T. Go to the "More" tab located at the bottom right side of the app interface.
From there, tap "Phone Transfer" to detect devices. On your iPhone, tap the avatar that corresponds your Android device.
Once connected, select files you need to transfer and tap the "Send" button. You can check all the data you transferred by tapping the transfer history icon at the top right corner.
Phone Manager for iOS and Android- ApowerManager
Another program you can use to transfer files from iPhone to OnePlus 6T is ApowerManager. It is a mobile file manager that works well on both iOS and Android devices. With this, you can easily manage your files including videos, photos, messages, contacts etc. It does not only allow you to transfer files, but it also enables you to backup and restore all your data to your PC. Hence, you don't have to worry about data loss and you will be able to prevent further technical issue by freeing up phone space. Furthermore, this program lets you manage your internal memory as well as files stored on your micro SD card. And just like the first one, it allows you to mirror your Android or iPhone screen to PC. To know how to transfer files from iPhone to your OnePlus 6T, you may check the instruction below.
First, download and install the app on your computer.
Launch it then connect your iPhone to PC using a USB cable. When a window appears on your device, simply tap the "Trust" button.
Once connected, the information of your iPhone will be displayed on the ApowerManager interface. Then, select all files you need and download it on your PC.
At this moment, connect your OnePlus 6T to PC via USB cable. Once done, you will be able to switch between the two connected devices.
Go to "My Device" tab and click the name of your device at the bottom left corner. From the list of devices, click the name of your OnePlus 6T and upload all your iPhone data from your PC to your OnePlus 6T. Then you'll be able to access your iPhone data from your OnePlus 6T.
Summary
If you wish to switch to a new phone or simply transfer some files from your iOS device to Android phone, the recommended two tools can help you get this job done. AirMore allows you to instantly transfer files with a reliable internet connection. Meanwhile, ApowerManager enables you to manage your iPhone or Android data with a lot of features to offer. Hence, whichever method you utilize, you can successfully transfer data from iPhone to OnePlus 6T without any quality loss.